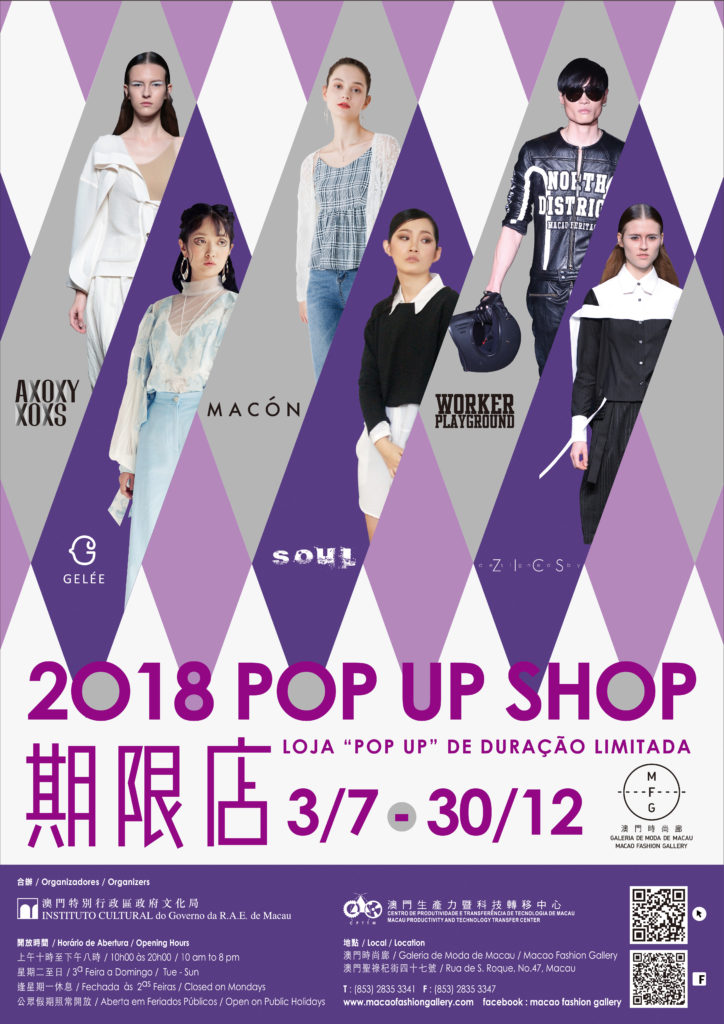 Exclusive Fashion Collections Pop-up Shop
The Macao Fashion Gallery strives to promote the development of the fashion design industry in Macao. The "Pop-up shop" is held once again to showcase and sell local original clothing items for a limited period of time, in order to help local fashion designers expand the market for their products and generate business opportunities, as well as to provide multiple sales channels for Macao's local fashion brands. This edition of the "Exclusive Fashion Collections Pop-up Shop" features six fashion brands, namely, AXOXYXOXS, GELÉE, MACON, SOUL, Worker Playground and ZICS.
AXOXYXOXS
AXOXYXOXS, established in 2015, symbolises a group of people who do not wish to be labelled or confined by traditional conventions. Instead, they wish to pursue freedom, independence and their own dreams. AXOXYXOXS's designs accent details and originality with an emphasis on wearability and mix-and-match, and its effortless minimalist cuts demonstrating a low-key, graceful and casual urban chic style. AXOXYXOXS's designs has been exhibited at the Macao Fashion Gallery and the "Macao Emerging Fashion Exhibition". In addition, it was selected as eligible brand of the "Subsidy Programme for Fashion Design on Sample Making" launched by the Cultural Affairs Bureau of the Macao SAR Government.
GELÉE
In French, "GELÉE" means "jelly". It is a dessert mixed with water, sugar, fruit juice and edible gelatin. The brand spirit of "GELÉE" is best described by jelly's changeable shapes and sweet taste. GELÉE hopes to create avant-garde and artistic clothing items through meticulous transformation of fabrics and boundless creativity, so that people can demonstrate infinite possibilities and fun when mixing and matching their outfits.
MACON
MACON is an original fashion brand introduced by Fuson Garment Factory Limited in 2013. It is also the first Macao fashion brand that has successfully launched on the shopping platform TMall.com. By now, MACON has a brick-and-mortar shop in mainland China, attracting lots of shoppers and earning great reviews. By integrating its design concepts with Macao's characteristics as a city of leisure and tourism, it advocates downshifting and travelling light. Its products aim to be comfortable and simple, thereby injecting a boost of unisex and arty youthfulness.
SOUL
SOUL, created in 2016, features black and white as its main colour scheme. With asymmetrical designs as its highlight, it combines 3D cutting, high quality fabric and professional tailoring to offer both quality and comfort. The brand exemplifies modern women's unique character and style, accentuating women's creativity, wisdom and charm. In addition to being the eligible brand of the "2016 Subsidy Programme for Fashion Design on Sample Making" launched by the Cultural Affairs Bureau of the Macao SAR Government, SOUL was also a selected project of the Cultural Industries Fund of Macao.
Worker Playground
Worker Playground, founded in 2012, was named after Macao's long-gone Workers' Stadium. Worker Playground is known for manufacturing jackets with designs incorporating the historical elements of Macao, which include Macao's aviation history, Macao's scenery in the old days, the once-popular sports jai alai and hockey, as well as the varying lifestyles and cultures of different districts in Macao. "For Boys Want to Be Men, For Men Want to Be Boys" is the latest slogan of Worker Playground. It demonstrates that Worker Playground target customers include both young and grown men, thus putting forward the brand's "ageless" spirit.
ZICS
ZICS was created in 2009, using black, white and grey as the main colour scheme to create a unisex and individualistic urban chic style. Inspired by the diversity of urban life, ZICS developed its experimental design themes. By adopting minimalist cuts, not only are ZICS's designs wearable, but they also reveal subtle details and personalisation. Furthermore, ZICS's unique wardrobe explores the possibilities of asymmetry and layering. It is ZICS's aim to establish a subtle bond between the wearer and the city by bridging the two with every ZICS garment.
Macao Fashion Gallery
Showroom Date:3/7/2018-1/1/2019
Opening hours: 10am – 8pm (closed on Mondays, open on public holidays)
Venue: Rua de S. Roque, No. 47, Macao
Enquiries: (853) 2835 3341 (during office hours)
Website: www.macaofashiongallery.com
Free admission