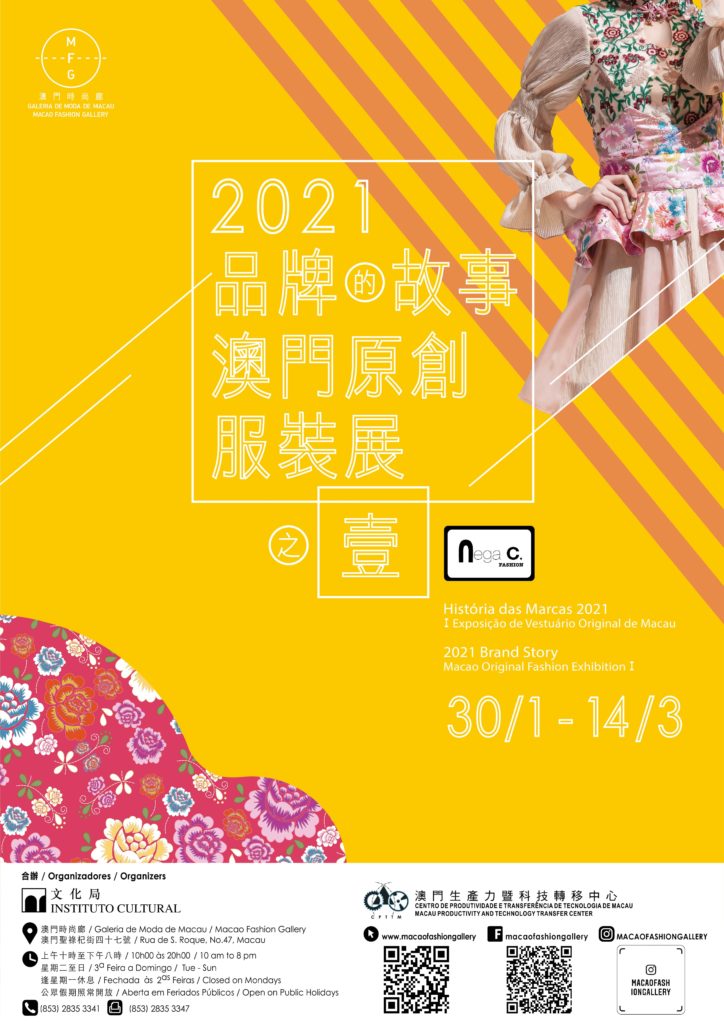 2021Brand Story—Macao Original Fashion Exhibition I
Introduction
Fashion is a tribute to aesthetics and is also an artistic expression. Items of clothing are most likely to gain momentum in fashion trends. Fashion designers are pioneers shaping styles, who look for inspirations in the natural world and ingeniously combine inspirations and personal styles to give new meaning to fashion and offer avant-garde interpretations. The works are born from countless remodeling, full of silent bitterness. And the stories behind them attract fashion enthusiasts imperceptibly.
In recent years, cultural and creative industries have gradually drawn the attention of society. Committed to driving forward the development of the clothing industry, the Macao Fashion Gallery (MFG) will continue to hold the "Brand Story—Macao Original Fashion Exhibition" in 2021. After an open call and selection, a few promising local original brands are expected to achieve development through the MFG platform, contributing to the boom of the local clothing industry.
The exhibition will be staged in eight phases, with one brand being displayed at each phase. The eight brands selected by a professional judging panel are Nega C., Lexx Moda, ANIFA, Common Comma, PUI, Demi*D, NO.42, and C/W COLLECTIVE, which will be exhibited one after another. The youthful and sweet brand Nega C. will be the first to be displayed, followed by Lexx Moda, a women's shoe brand combining comfort and fashion, ANIFA, a sports suit brand delivering a sense of technology, Common Comma with a blend of elegance and casualness, PUI featuring unique designs, Demi*D known for its concise and decent style, and the mixed-style brand NO.42. This event will be concluded by avant-garde and high-end C/W COLLECTIVE.
The eight brands are all distinctive in style, and each has its own design merits. They will showcase their latest series of works to the outside world and share with the public their representative creations through the MFG platform, bursting with brand vitality. Moreover, there will also be a sales space to exhibit these brands' clothing collections at the venue.
Brand introduction:Nega C.
The fashion label was established in 2011. In the beginning, the label focused on designing theatre costumes and shoes. In 2012, their first women's wear boutique opened in Macao. Later, they expanded their lines to cover "Ready to wear" women's clothes.
"The life you love, the love you live" has always been the design principle of Nega C. The label loves life, creating fashion for active women, unrestrained by age. Living a leisurely life is their main concept, fusing with street culture, music, and art to create a style that is cute, naughty, and hip.
Brand designer:Isabella Choi
Isabella Choi developed a strong interest for fashion design at a very young age and is always thirsty for design knowledge. At the age of 15, Isabella made a decision of furthering her studies in UK. In 2010, she graduated from the undergraduate programme in Fashion Design at the Kingston University, London. With her passion for fashion, she established her own fashion brand, Nega C. in Macao, hoping to incorporate creativity into daily life, and understanding it with right attitude.
Exhibition Theme :Spring
This series is specially designed to welcome the new year. 2020 has been a very challenging year. It is hoped that 2021 can mark a new start.
This series incorporates Chinese style elements, combining traditional cheongsam design with modern styles. By blending the concepts of tradition and modernity, it portrays the image of gentle and graceful modern Chinese women, while adding a sense of occasion to the traditional Spring Festival.
Macao Fashion Gallery
Exhibition Date:30/1-14/3/2021
Opening hours: 10am – 8pm (closed on Mondays, open on public holidays)
Venue: Rua de S. Roque, No. 47, Macao
Enquiries: (853) 2835 3341 (during office hours)
Website: www.macaofashiongallery.com
Free admission