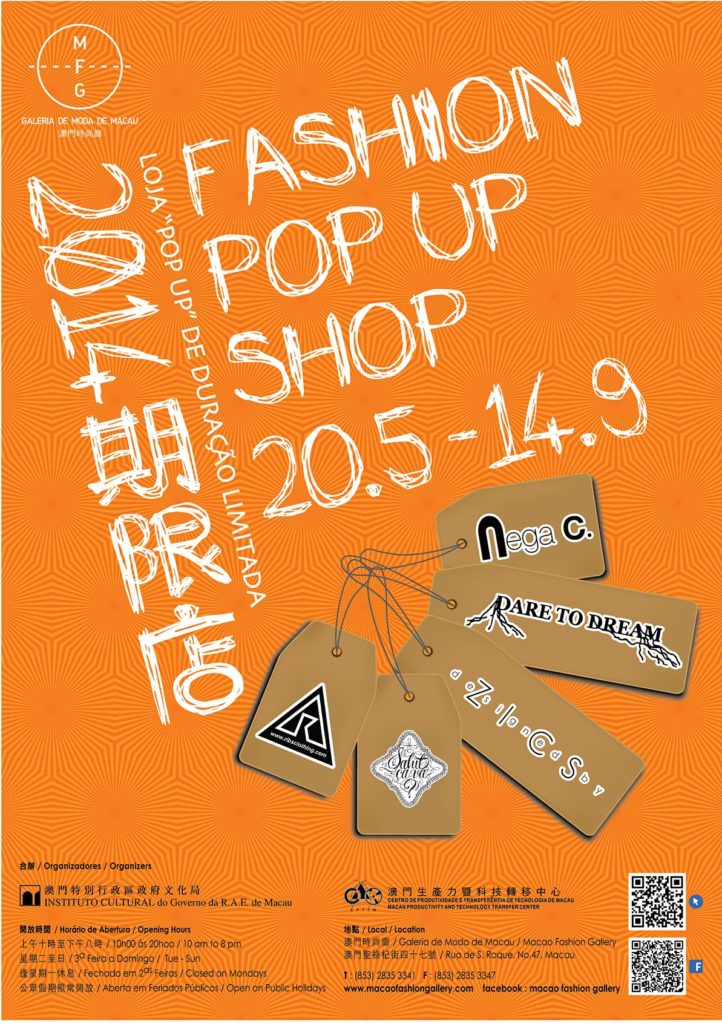 Summer Pop-up Shop 2014
To further develop the fashion design industry in Macao and, Macao Fashion Gallery sets up a pop up store for a limited period to sell local designs over the summer in 2014. Its aim is to open up commercial opportunities for local fashion designers and different distribution channels for their original designs. On this occasion, the summer pop up store, adopting the theme of summer, has five local brands participating.
The brand 'DARE TO DREAM', fittingly, is renowned for its creative and characteristic casual fashion, using handpicked fabrics and stitches as well as practicing unique dyeing and washing techniques in garment manufacturing. The women's lines under this brand are characterized with romantic, cute, trendy, cool and adventurous themes.
The brand 'Ribs Clothing' was launched in 2009, with the aim to enrich the elements used for designing in Macao and to exhibit the ideas of the youth in Macao. Apart from selling fashionable clothing, Ribs Clothing is also actively encouraging the local creations. It has since held two 'T-Shirt Pattern Design Competitions' and used the awarded pieces for product sales, in order to encourage young designers to hold onto their creative dreams.
The brand 'NEGA.C' is fashionable and cool, as its designer has the wildest dreams of the world. NEGA.C has sought great inspirations from street cultures, i.e. music, architectures, art and fashion; its creation is styled like a cute and mischievous girl. By presenting design elements and popular information in different forms, it is hoping to blend creativity into every day's life and to experience creativity with sensibility.
The brand 'ZICS' was established in 2009. The designer, in a black-and-white world, discovered and experimented with fashion themes to create unisex clothing collections and to explore the possibilities of asymmetry and layers. The collections was exhibited in Macau Fashion Festival, Hong Kong Fashion Festival, and so on. 'ZICS' also attempts to create in other fashion areas including theatrical costumes and accessories.
The brand 'Salut, ça va?' means 'Hello, how are you?' in French. Like an every day's warm greeting, the brand aims to deliver the light and modest sense of life. The brand dedicates to feminine and romantic vintage women's fashion, with French nostalgic aura emanating from the designs. In addition, both clothes for everyday and for special occasions are provided in each line.
Macao Fashion Gallery
Showroom Date:20/5-14/9/2014
Opening hours: 10am – 8pm (closed on Mondays, open on public holidays)
Venue: Rua de S. Roque, No. 47, Macao
Enquiries: (853) 2835 3341 (during office hours)
Website: www.macaofashiongallery.com
Free admission