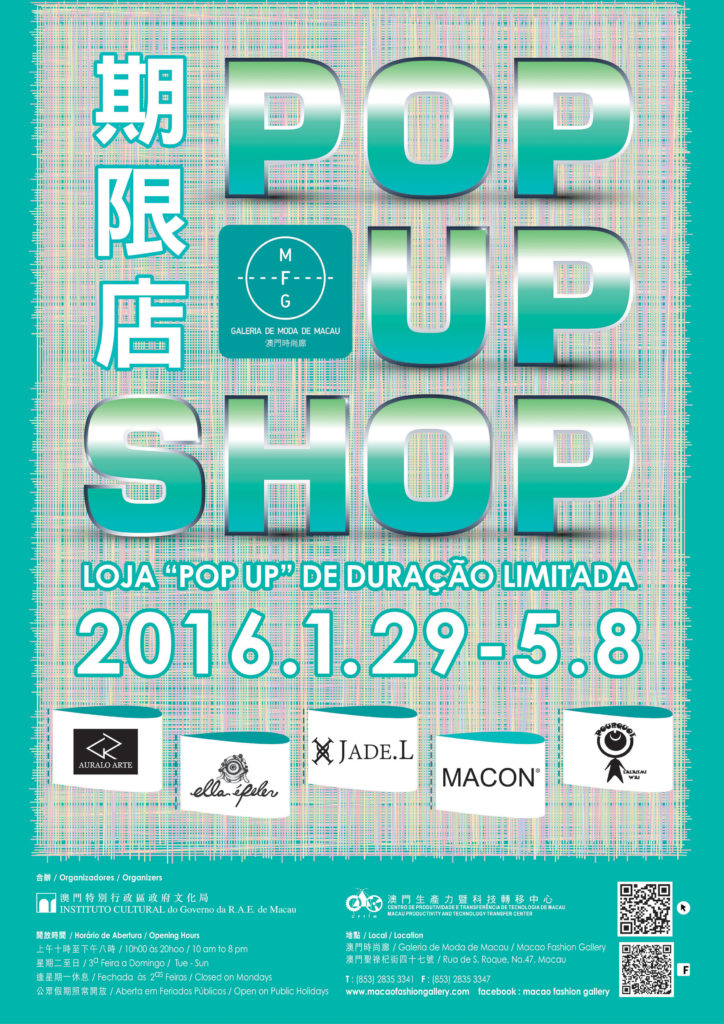 Spring Pop-up Shop 2016
The brand activity "Pop-up Store" of Macao Fashion Gallery (MFG), which exhibits and sells original design fashions of local designers to enhance business opportunities for them, and provides more channels for the multi-faceted sales exhibitions of the local original design fashions. As spring is around the corner, MFG will organize the "Spring Pop-up Store" event again on the occasion when fashion trend followers, both men and women, would add some new classics to their wardrobes. Five brands will come to the event, including:
"AUROLO ARTE", features a perfect combination of art and splendor, designing trendy and unique clothes. Haute couture production methods have been employed in every detail. The colors of the couture show a beautiful evolution and illusion from black to multicolor, just like the aurora dancing beautifully in the dark night.
"ella épeler"is a women fashion label, the aim of "ella épeler"is to keep our heart innocent, paint our future with creative dream irrespective of age, and seek for quality lifestyle, try to have courage in many aspects. Thus, the design theme of"ella épeler"is using unique design illustrations mix with irregular youthful tailoring, and mix the different elements together.
"JADE. L", is closely related to life attitude. It pursues unique personality and interprets unisex in a low-profile way. "JADE. L" brings personality into daily routines, creating a local unisex fashion brand in Macao. By focusing on the texture of the couture and paying attention to details, it integrates characteristics into every design and thus adding a unique glamour to the low profile life.
"MACON", founded in 2013. It is the first Macanese original brand to launch on the T-Mall, an online integrated shopping platform. The design style of MACON centers on "slow life, light trip", with its products having comfort and simplicity as their main tone to create the senses of unisex and literal arts youth.
"POURQUOI" means "why" in French and the design idea of this brand is an unanswered question mark. The clothes, which are full of creative, amusing and interesting designs, bring people never failed surprises like a child has.
Macao Fashion Gallery
Date:29/1-8/5/2016
Opening hours: 10am – 8pm (closed on Mondays, open on public holidays)
Venue: Rua de S. Roque, No. 47, Macao
Enquiries: (853) 2835 3341 (during office hours)
Website: www.macaofashiongallery.com
Free admission