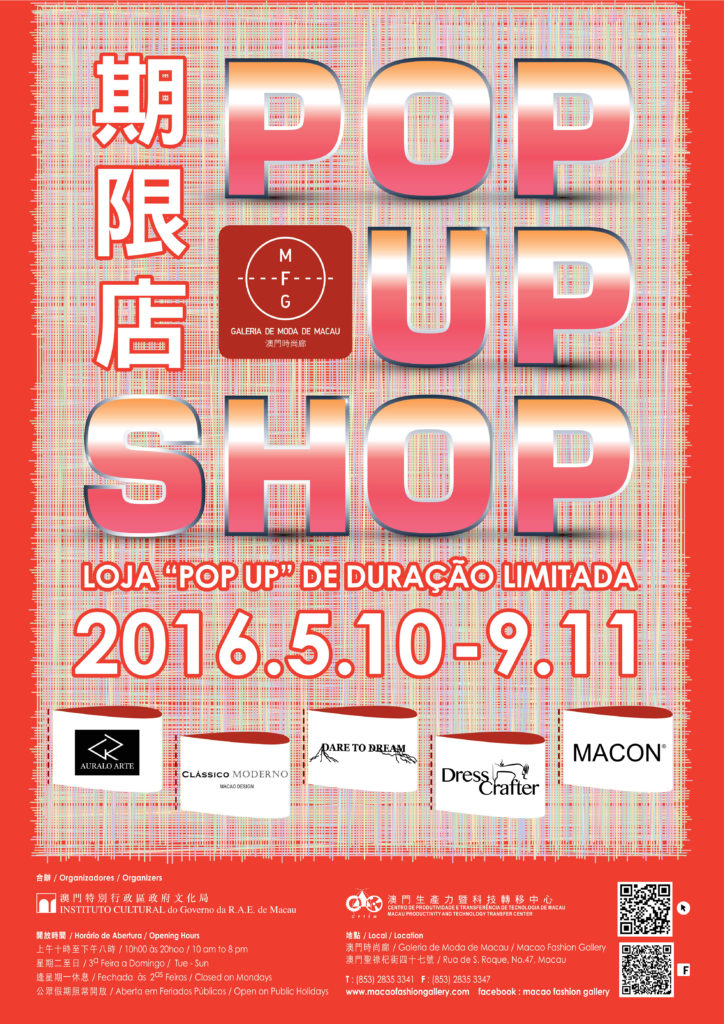 Summer Pop-up Shop 2016
With the purpose of promoting Macao Fashion Industry, Macao Fashion Gallery (MFG) continues to hold the brand activity "Pop-up Store" this year. During the designated period of time, we will exhibit and sell original local fashion designs, in order to help local designers to explore business opportunities and provide more sales channels for their products. The Summer Pop-up Store includes five local brands this time, namely:
"AURALO ARTE", features a perfect combination of art and gorgeousness, designing trendy and unique clothes. Haute couture production methods have been employed in every detail. The colors of the couture show a beautiful evolution and illusion from black to multicolor, just like the aurora dancing beautifully in the dark night.
"DARE TO DREAM", is renowned for its creative and unique casual wear. The women's lines under this brand are characterized with romantic, cute, trendy, cool and adventurous. The brand is using handpicked fabrics and stitches as well as practicing unique dyeing and enzyme wash techniques in garment manufacturing.
"CLÁSSICO MODERNO", primarily sells men's suit and accessories. The brand is divided into two different styles: classic business suits and modern luxury tuxedo. Its products are famous for fashionable design and exquisite cutting. It also provides the service of custom-made high-end tuxedo making.
"DressCrafter": Fashion is seen as a powerful communication tool. It reflects the inspiration and viewpoint behind the process of creation. And handicraft is critical to show the inspiration expressed by the clothing structure to the world. The brand emphasizes very much on developing garment pattern and sewing skills. Every piece of work is born as a result of interactive texture of plain design and garment pattern creation.
"MACON", founded in 2013. It is the first Macao original brand to launch on the T-Mall, an online integrated shopping platform. The design style of MACON centers on "slow life, light trip", with its products having comfort and simplicity as their main tone to create the senses of unisex and youth arts.
Macao Fashion Gallery
Date:10/5-11/9/2016
Opening hours: 10am – 8pm (closed on Mondays, open on public holidays)
Venue: Rua de S. Roque, No. 47, Macao
Enquiries: (853) 2835 3341 (during office hours)
Website: www.macaofashiongallery.com
Free admission