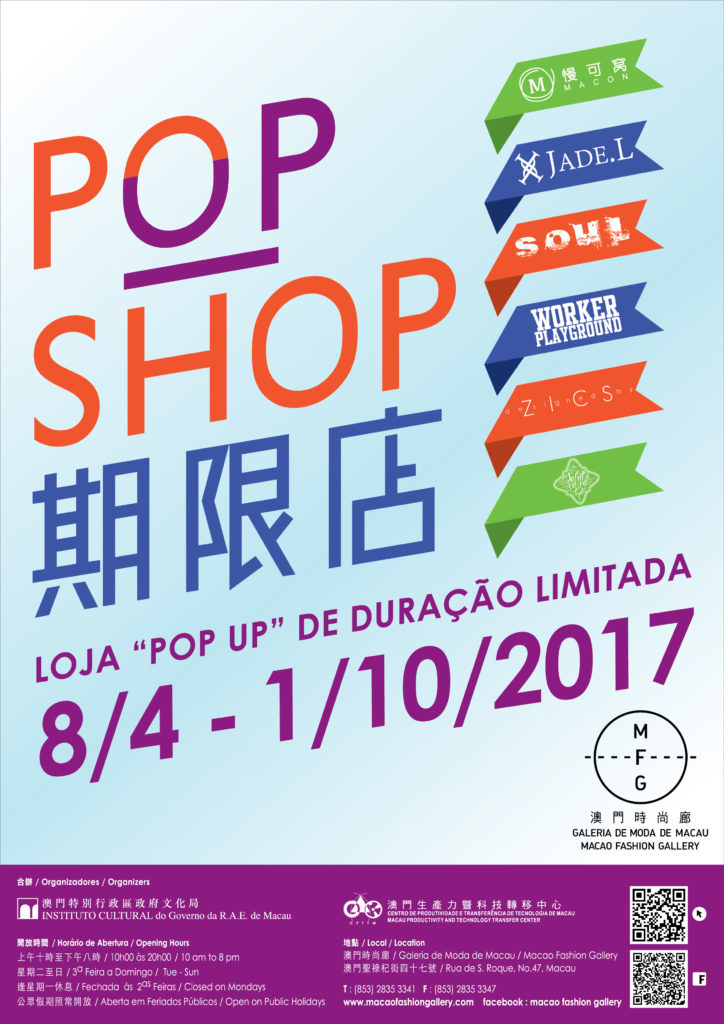 Brand Story – Pop-up Shop
To support the "Brand Story – Macao Original Fashion Exhibition", Macao Fashion Gallery has especially created the "Brand Story – Pop-up Shop" to sell the designed-in-Macao products by the six local fashion labels showcased at the event. They are, MACON, JADE.L, SOUL, Worker Playground, ZICS, and Salut ça va?. Macao Fashion Gallery hopes that with such a sales platform, more business opportunities can be developed for local fashion brands, so as to increase their exposure and promote Macao original designs.
MACON
MACON was created in 2013 and it was the very first created-in-Macao fashion label that went on TMall.com, the largest integrated online shopping platform in Asia. The MACON design concept revolves around "Live Slow, Travel Light". The label features simple, comfortable clothes that give wearers a gender-neutral, artsy, and youthful look.
JADE.L
JADE.L was created in 2014. The label expresses gender-neutral aesthetics through texture and details in products, infusing individuality into every design. "Be Yourself" is the brand philosophy, for the designer believes that JADE.L clothing is not necessarily trendy, but it represents distinctive beauty and style, aiming to become a powerful, unisex fashion brand of Macao.
SOUL
SOUL is a women's wear fashion label created in 2016. With a black and white colour palette, the brand designs combine high quality fabric, meticulous sewing, and 3D cutting to create an asymmetrical outfit that conveys the distinct personality and style of modern women. The label aims to show the innovative intelligence and individual charms of women without compromising quality and comfort.
Worker Playground
Founded in 2010, Worker Playground is a street culture clothing brand of Macao. The brandname and design philosophy were inspired by the collective memory of the old Worker's Sports Field, in Macau downtown, where today stands the Grand Lisboa. Its main line consists of men's wear featuring classic designs combined with Macao elements to highlight local culture. The brand aims to create unique, classical styles with local characteristics.
ZICS
ZICS was created in 2009. Its designer only uses black, white, and grey to develop experimental themes, launching gender-neutral chic styles that explore the possibilities of asymmetry and layering. ZICS collections have been shown in "Macao Fashion Festival" and "Hong Kong Fashion Week". The designer loves to explore an array of creative forms, including stage costumes and fashion accessories.
Salut, ça va ?
The label was founded in 2010. "Salut, ça va?" is French for "Hello, are you fine?" a friendly greeting for any occasion. As such the brand insists on trend-defying timeless design styles. Retro, romantic, feminine designs have become a key feature of "Salut, ça va?", oozing nostalgic French culture in every aspect. The label offers daily wear and special occasion wear. It also provides custom tailoring services for both men and women.
Macao Fashion Gallery
Showroom Date:8/4-1/10/2017
Opening hours: 10am – 8pm (closed on Mondays, open on public holidays)
Venue: Rua de S. Roque, No. 47, Macao
Enquiries: (853) 2835 3341 (during office hours)
Website: www.macaofashiongallery.com
Free admission