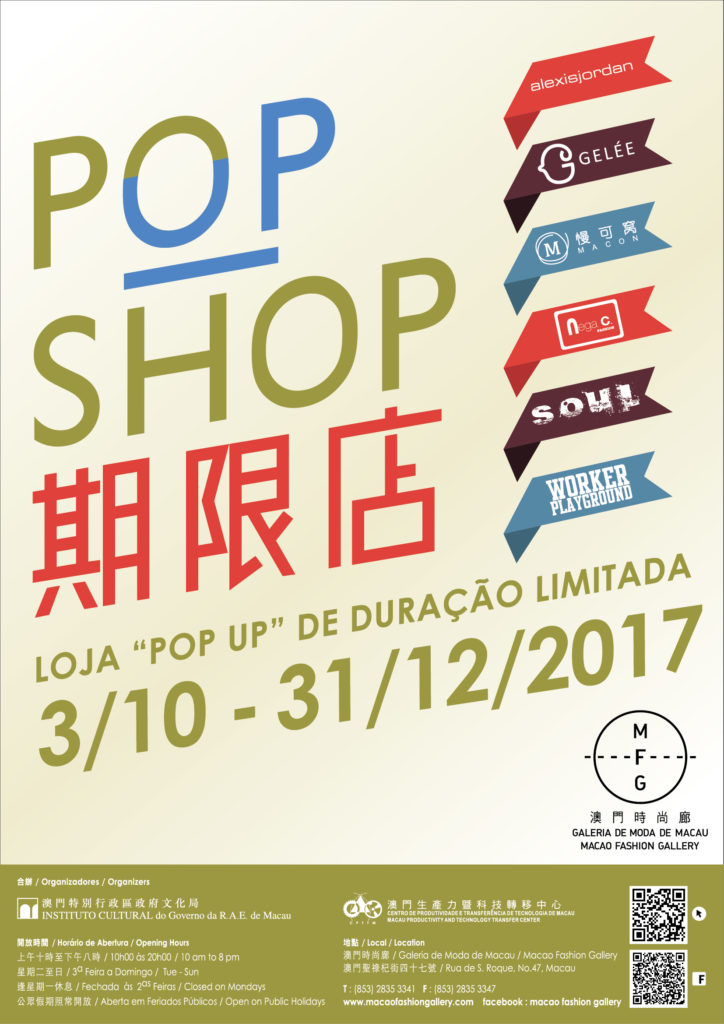 Winter Pop Up Shop 2017
To promote Macao's Fashion Industry, the Macao Fashion Gallery (MFG) continues to hold the brand event "Pop Up Shop". We will exhibit and sell original apparel and accessories designed by local designers in a designated period of time, in order to help them develop business opportunities and provide more sales channels for local products. The Winter Pop Up Shop includes six local brands this time, namely alexis jordan, GELÉE, MACON, NEGA C., SOUL and Worker Playground.
alexis jordan
At alexis jordan, we believe in producing premium menswear focused entirely on the marriage between style, function and versatility. Each piece is designed to take you seamlessly from a boardroom meeting to a trendy downtown lounge.
With an internationally renowned team of designers and dressmakers, alexis jordan uses fabrics exclusively from high quality foreign sources. As such we offer the modern gentleman a selection of clothes that is both modern and charismatic, characterized by the perfect combination between comfort and luxury.
GELÉE
In French, "GELÉE" means "Jelly", the dessert that's made by mixing water, sugar, fruit juice and edible gelatin. Jelly's changing shape and sweet temperament embodies the spirit of the brand "GELÉE". We hope to create avant-garde clothing through transforming fabrics, a special touch to showcase the uniqueness of our garments.
MACON
MACON was created in 2013. It was the first Macao fashion label to sell online on TMall.com, an integrated online shopping platform in Asia. The MACON design concept revolves around "Live Slow, Travel Light". The label features simple and comfortable clothes that emanate a neutral, artsy, and youthful sense for its wearers.
NEGA C.
The fashion label was established in 2011. In the beginning, the label focused on designing theatre costumes and shoes. In August of 2012, their first women's wear boutique opened in Macao. Later, they expanded their lines to cover ready-to-wear women's clothes.
"The life you love, the love you live" has always been the design principle of NEGA C. The label loves life, creating fashion for active women, unrestrained by age. Living a leisurely life is their main concept, fusing with street culture, music, and art to create a style that is cute, naughty, and hip.
SOUL
SOUL is a womenswear fashion label, created in 2016. Soul adopts black and white as its theme, using high quality fabric, professional tailoring, and 3D cutting to create an asymmetric style which articulates the distinct personality and beauty of a curvy woman. The label aims to showcase the intelligence and individual charm of women while maintaining quality and comfort for the wearer.
Worker Playground
Worker Playground was founded in 2010, a fashion label that reflects the street culture of Macao. The label uses the old Macau Workers Stadium as its design concept and namesake, tying into the collective memory and sentiment of Macao people. The label focuses on menswear, using variations of classic style as its theme, adding Macao elements such as Macao's aviation history, rock-n-roll festival, Macao specialty sport Jai Alai and hockey, as well as the Macao Grand Prix, which are cleverly placed in the design of the clothes. By manifesting local culture, the label aims to produce a classic yet original style of clothing, different from what can be found elsewhere.
Macao Fashion Gallery
Date:3/10-31/12/2017
Opening hours: 10am – 8pm (closed on Mondays, open on public holidays)
Venue: Rua de S. Roque, No. 47, Macao
Enquiries: (853) 2835 3341 (during office hours)
Website: www.macaofashiongallery.com
Free admission