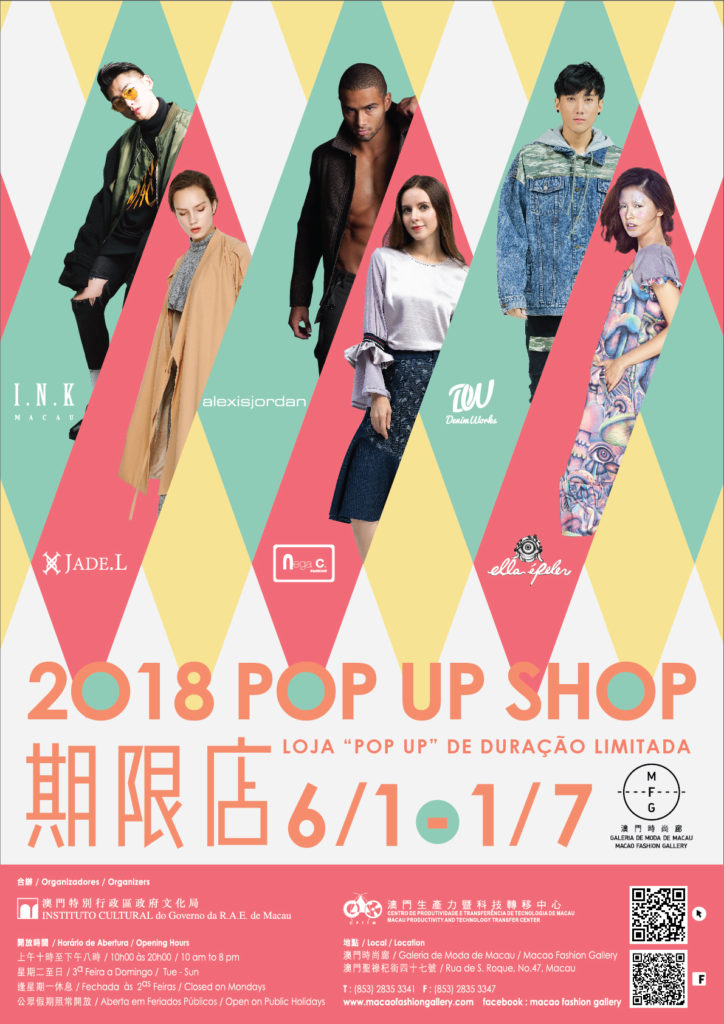 2018 Brand Story—Pop-up Shop
Organized by Macao Fashion Gallery, the 2018 Brand Story—Pop-up Shop will bring fashion lovers a new shopping experience with designs from six fashion labels of 2018 Brand Story—Macao Original Fashion Exhibition, including I.N.K, JADE.L, alexis jordan, Nega C., Denimworks and ella épeler, to be showcased and on sale from 6th January to 1st July at the Gallery.
I.N.K
I.N.K was co-founded in 2016 by fashionista Inky Leong and designer Kris Chan from Macao. The brand name created with their initials denotes "ink" and connotes "idea overflow in ink", that is, translation of inspirations into memorable ink creations. With an emphasis on innovation and cultural diversity, I.N.K develops original, market-oriented series using local cultural elements, including those of art and music to spread the spirit of Macao's fashion brands.
JADE.L
Established in 2014, JADE.L conveys the aesthetic concept of gender-neutrality. The brand interprets uniqueness and individuality through different uses of fabric textures and design details, giving an air of high-class and youthfulness to every line of its products. JADE.L takes "Be Yourself" as the brand purpose, advocating the link of branded clothing to expression of distinctiveness and beauty rather than representing the trend, while striving to promote local fashion label of neutrality.
alexis jordan
Established in 2014, at alexis jordan, we believe in producing premium menswear focused entirely on the marriage between style, function and versatility. Each piece is designed to take you seamlessly from a boardroom meeting to a trendy downtown lounge.
With an internationally renowned team of designers and dressmakers, alexis jordan uses fabrics exclusively from high quality foreign sources. As such we offer the modern gentleman a selection of clothes that is both modern and charismatic, characterized by the perfect combination between comfort and luxury.
Nega C.
The fashion label was established in 2011. In the beginning, the label focused on designing theatre costumes and shoes. In 2012, their first women's wear boutique opened in Macao. Later, they expanded their lines to cover ready-to-wear women's clothes.
"The life you love, the love you live" has always been the design principle of Nega C. The label loves life, creating fashion for active women, unrestrained by age. Living a leisurely life is their main concept, fusing with street culture, music, and art to create a style that is cute, naughty, and hip.
Denimworks
Denimworks was created as a Macao jean brand in 2015 with an aim to preserve and inherit the local techniques of jean clothing production. Named with "Denim", an essential jean clothing element, the brand adheres to the original idea of simplicity and comfort for jean clothing from choosing fabric materials, through design to production. By doing so, Denimworks aspires to produce jean pieces that best suit the majority of the community, allowing shoppers to select their matching clothes in a relaxing mood while being at leisure.
ella épeler
Founded in 2015, ella épeler is a female fashion label that upholds quality living marked by avant-garde pursuits and audacious attempts in different areas, with lasting curiosity and innocence in the process of aging. The brand's innovative designs feature original illustrations and special, playful cutting among other elements, evidencing the designer's personal style.
Macao Fashion Gallery
Showroom Date:6/1-1/7/2018
Opening hours: 10am – 8pm (closed on Mondays, open on public holidays)
Venue: Rua de S. Roque, No. 47, Macao
Enquiries: (853) 2835 3341 (during office hours)
Website: www.macaofashiongallery.com
Free admission