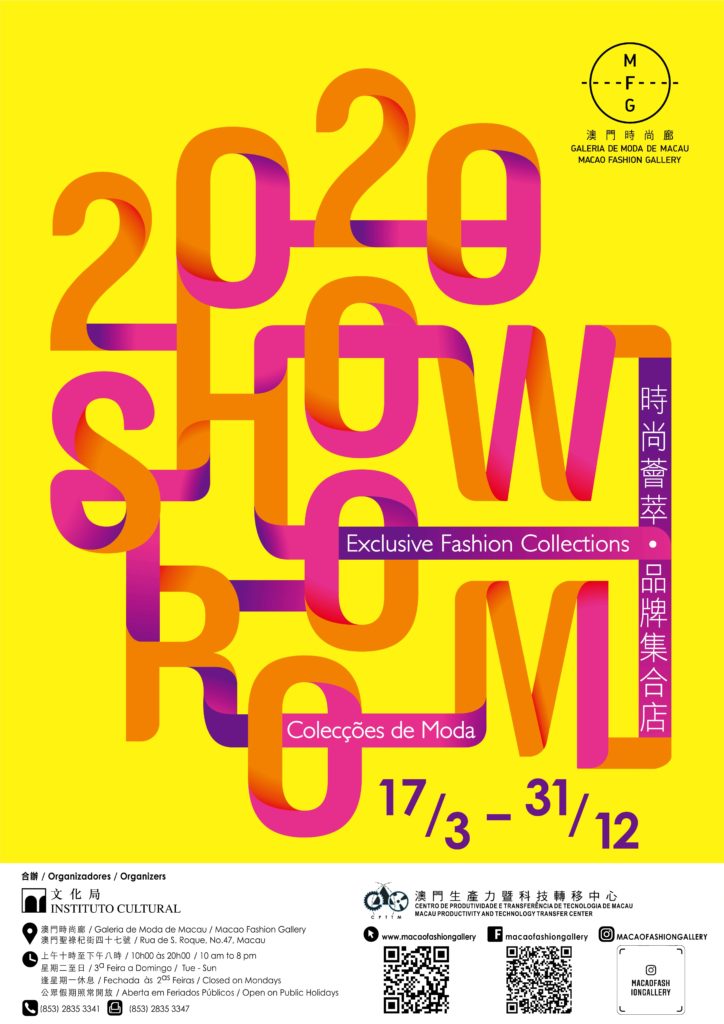 2020 Exclusive Fashion Collections—Showroom
The Macao Fashion Gallery is fully supportive of local cultural, creative and fashionable activities. It spares no effort to facilitate the development of original clothing designs and will continue to promote a variety of exhibitions for local brands.
This year, on the basement floor and first floor of the Macao Fashion Gallery, the "2020 Exclusive Fashion Collections—Showroom" continues. The event demonstrates a new retail model by bringing together 34 fashion and apparel brands with great potential, displaying them in the form of a fashion showroom. This event allows the brands to gain more exposure and business opportunities, and in the meantime, it provides the brands with substantial help in marketing strategy and service experience.
The original brands participating in this year's event include:
Common Comma
ella épeler
GODDESS ARMOUR
I.N.K
MACON
Nega C.
NO.42
O.Daylily
POURQUOI
PUI
SANCHIALAU
SOUL
Worker PlaygroundZICS
ADD Something on
CHANGE
CPTTM
Crystal E. Creation
Earlyink
FAITH & FEARLESS
FASHION MUSEUM
Genuine Recipe
Lexx Moda
Loving Macau
Naomi
S&E Handmade
Stardust Journey
ULTRAWORKS
YEARN LACONIC
小芸滴膠手作
阿爽
啟能中心
飯田妹
澳門弱智人士家長協進會
Macao Fashion Gallery
Showroom Date:17/3/2020-24/1/2021
Opening hours: 10am – 8pm (closed on Mondays, open on public holidays)
Venue: Rua de S. Roque, No. 47, Macao
Enquiries: (853) 2835 3341 (during office hours)
Website: www.macaofashiongallery.com
Free admission