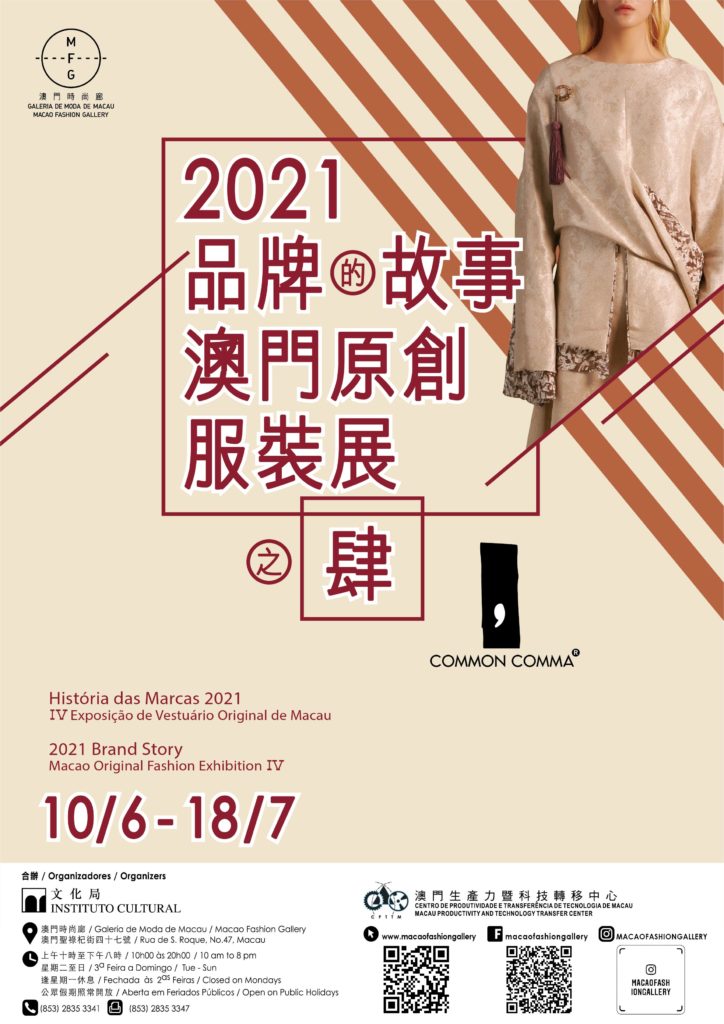 2021Brand Story—Macao Original Fashion Exhibition VI
Introduction
Fashion is a tribute to aesthetics and is also an artistic expression. Items of clothing are most likely to gain momentum in fashion trends. Fashion designers are pioneers shaping styles, who look for inspirations in the natural world and ingeniously combine inspirations and personal styles to give new meaning to fashion and offer avant-garde interpretations. The works are born from countless remodeling, full of silent bitterness. And the stories behind them attract fashion enthusiasts imperceptibly.
In recent years, cultural and creative industries have gradually drawn the attention of society. Committed to driving forward the development of the clothing industry, the Macao Fashion Gallery (MFG) will continue to hold the "Brand Story—Macao Original Fashion Exhibition" in 2021. After an open call and selection, a few promising local original brands are expected to achieve development through the MFG platform, contributing to the boom of the local clothing industry.
The exhibition will be staged in eight phases, with one brand being displayed at each phase. The eight brands selected by a professional judging panel are Nega C., Lexx Moda, ANIFA, Common Comma, PUI, Demi*D, NO.42, and C/W COLLECTIVE, which will be exhibited one after another. The youthful and sweet brand Nega C. will be the first to be displayed, followed by Lexx Moda, a women's shoe brand combining comfort and fashion, ANIFA, a sports suit brand delivering a sense of technology, Common Comma with a blend of elegance and casualness, PUI featuring unique designs, Demi*D known for its concise and decent style, and the mixed-style brand NO.42. This event will be concluded by avant-garde and high-end C/W COLLECTIVE.
The eight brands are all distinctive in style, and each has its own design merits. They will showcase their latest series of works to the outside world and share with the public their representative creations through the MFG platform, bursting with brand vitality. Moreover, there will also be a sales space to exhibit these brands' clothing collections at the venue.
Brand introduction:Common Comma
The brand name of "Common Comma" is defined by Carmen Leng and David Sui, co-founders of the brand, as follows: a comma as a common mark can be perceived as equal to fashion — both of them as daily sights are far from negligible. There is also a diffusion line "Loom by Common Comma".
Brand designer:Carmen Leng
Carmen Leng was a fashion design major studying in the UK and ever since she graduated with first-class honors in 2012, she has been deeply fascinated by natural structures. Although the definitions of fashion design may vary from person to person, for her, it is all about craftsmanship.
Exhibition theme — Vintage modernisation
LOOM is out of step with trends. It pays more attention to emotions and poetry attached to clothes, hoping to produce works that are unconstrained by fashionable aesthetics and remain avant-garde.
The process in which the lines, contours, tailoring, texture and colours of a piece of clothing are presented is like a dialogue and a microcosm of life.
Fabrics and details are the most important basis of clothes, but they are overlooked by many people. When you finish a layered fabric, you do not have to bother creating contours for the clothes, and that is why this craft is aimed at refinement.
Macao Fashion Gallery
Exhibition Date:10/6-18/7/2021
Opening hours: 10am – 8pm (closed on Mondays, open on public holidays)
Venue: Rua de S. Roque, No. 47, Macao
Enquiries: (853) 2835 3341 (during office hours)
Website: www.macaofashiongallery.com