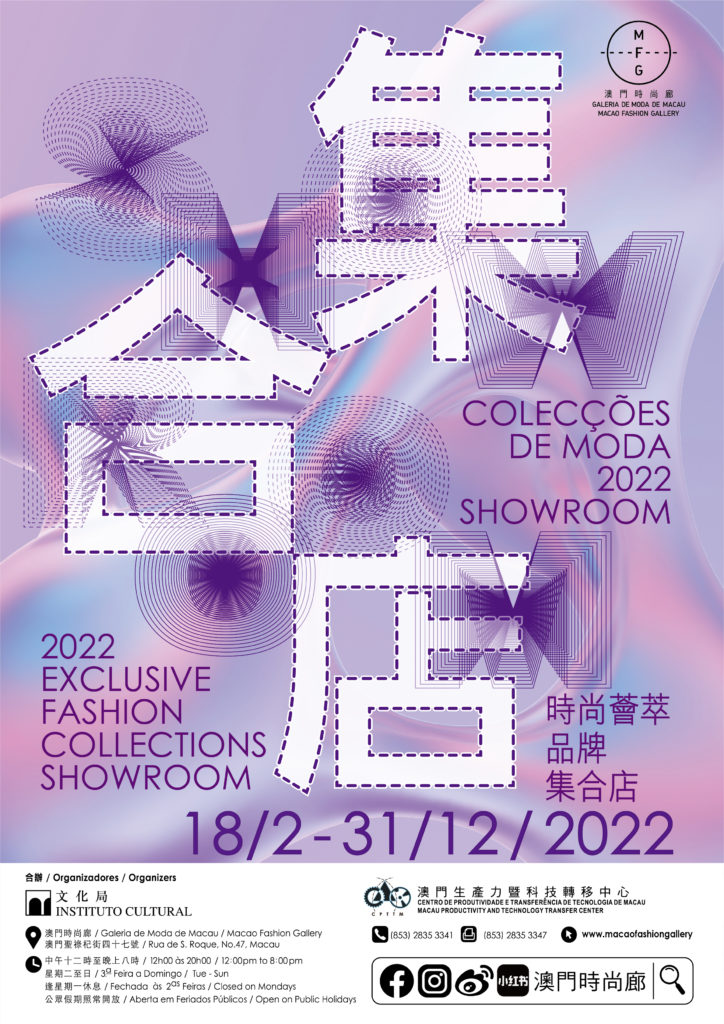 2022 Exclusive Fashion Collections—Showroom
As a platform gathering Macao's original clothing brands, the "Showroom" displays and sells clothing, shoes, accessories, bags and more, which allows customers to mix and match products from different brands in one place, enriching their shopping experience and thus giving full play to Macao's distinctive cultural diversity and integration. Meanwhile, the "Showroom" enables a variety of brands to develop in synergy so that they can complement each other and highlight their respective values.
In recent years, fashion design in Macao has been gaining popularity in all sectors, new fashion brands are making a splash and being sought after by fashionistas, opening up new opportunities. Under this context, in 2022, the Macao Fashion Gallery (MFG) will continue to hold the "2022 Exclusive Fashion Collections—Showroom" in the basement and on the first floor of the MFG to gather original brands in the new edition of "Showroom" and thus fully support local original design.
The original brands participating in this year's "Showroom" are:
(Listed in no particular order)
ANIFA
AXOXYXOXS
C/W COLLECTIVE
COMMON COMMA
COOKEDBONES
Demi*D
ella épeler
I.N.K
Loom
MISAZAL
Nega C.
NO.42
POURQUOI
PUI
SARA LOLO
SHEFEELING
Work.in.process.mo
WOKER PLAYGROUND
ZICS
ADD something on
CC Lace
Cleo's Leathercraft
Crystal E. Creation
Earlyink
FAITH & FEARLESS
FASHION MUSEUM
Gato
JUMP OFF
Kiwieate Design House
Lexx Moda
Stardust Journey
Vânia Nobre Jewelry
Whiff Macau
68Jewellery
芸悅手作工作室
飯田妹
慢活日常
頹爆貓工作室
Macao Fashion Gallery
Showroom Date:18/2/2022-31/12/2022
Opening hours: 12pm – 8pm (closed on Mondays, open on public holidays)
Venue: Rua de S. Roque, No. 47, Macao
Enquiries: (853) 2835 3341 (during office hours)
Website: www.macaofashiongallery.com
Free admission