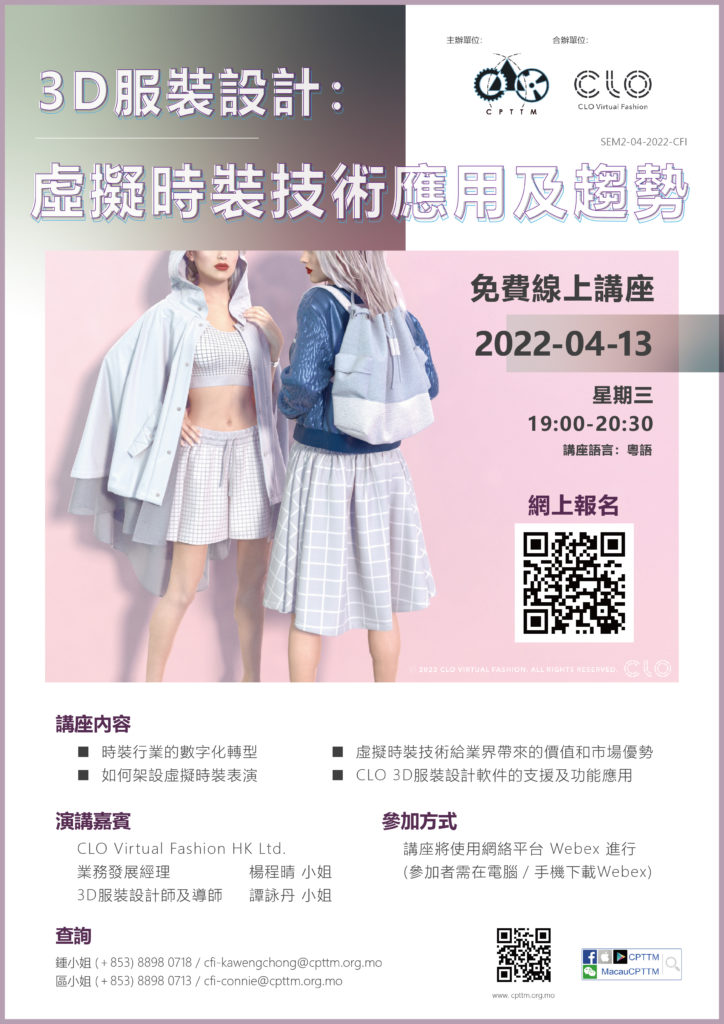 With the global trend of digitalization, the marriage of technology and fashion brings forth new development opportunities for the industry. From online fashion releases to virtual fashion shows, many fashion brands are now using virtual technology and cross-media integration to assimilate technology hotspots into their products, helping to create widespread delivery of their brand values to the view of global audience.
To entice Macao creative fashion industry to use such technology, CPTTM hosted a webinar on "3D Fashion Design: Application and Trend of Virtual Fashion Technology" on 13th April 2022. Representative from CLO Virtual fashion HK Limited was invited as speaker to talk about market values and advantages bring forth by virtual fashion technology. Speaker also talked about key points in creating virtual fashion show, using CLO 3D fashion design software to demonstrate fashion design, enabling participants to grasp the constructive concept of these related technology.
At the same time, CPTTM plans to offer CLO 3D pattern making software courses regularly. It will popularize the application of 3D fashion technology in the Macao creative fashion industry, helping people to optimize their workflow and improve circulation and efficiency, resulting in moving the industry forward in technology development.