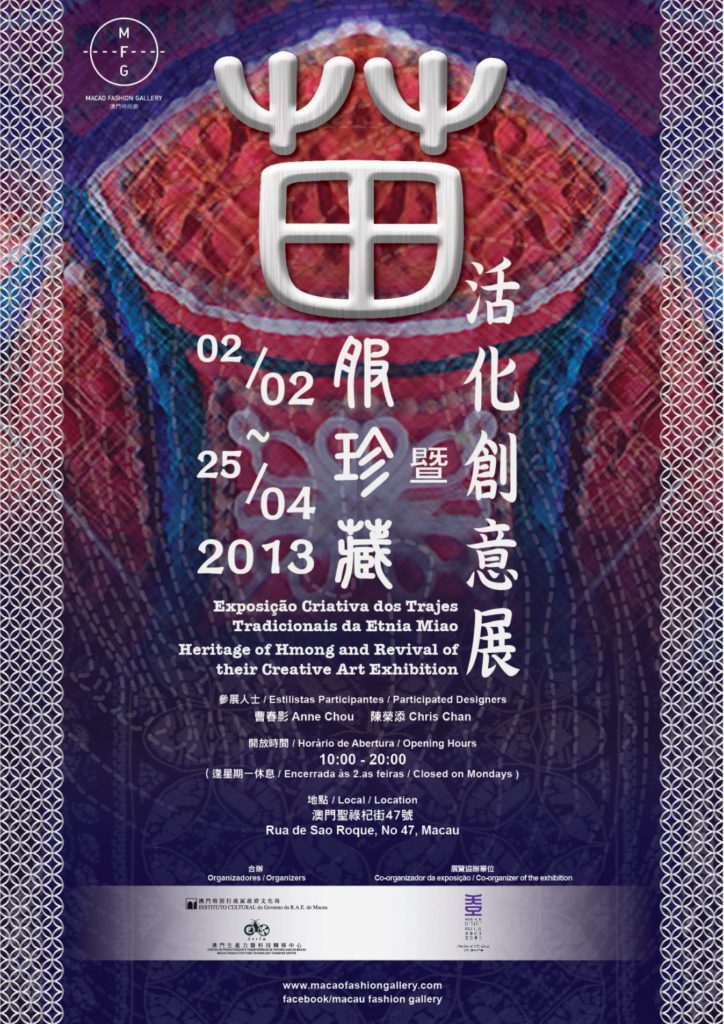 Heritage of Hmong and Revival of Their Creative Art Exhibition
Introduction
Hmong Tribe has a very long history and a very unique culture. Their fashion is an important manifestation of their culture. Hmong fashion is extremely rich in varieties, with over 100 types have being catalogued. The Hmong art is also breath taking, with "Hmong Embroidery" being listed into "The First Group of National Intangible Cultural Heritage" in 2006. When tribal art becomes the chic word of modern day fashion, the exquisite and distinctive Hmong tribal fashion has also become an inspiration for many contemporary fashion designers.
To pay our own tribute to this trend, Macao Fashion Gallery has especially organized a "Heritage of Hmong and Revival of their Creative Art Exhibition". Besides exhibiting traditional Hmong Tribe fashion from Guizhou, locally designed fashion agglomerating Hmong design characteristics are also on display. It is a demonstration of creative fusion between modern design and traditional Hmong fashion heritage.
Macao Fashion Gallery is honored to be in collaboration with Hong Kong Design Institute (HKDI), a subsidiary of Hong Kong Vocational Training Council, on this Exhibition. HKDI is very generous in lending their collection of traditional and rare Guizhou Miao fashion to this Exhibition. Meanwhile, two well-known Macao fashion designers, Miss Anne Chou and Mr. Chris Chan, also participated. Using characteristic Yunnan Hmong Tribe techniques such as tie-dye and embroidery as well as other Hmong accessories, fusing them into their personal design styles, they have created some very imaginative and stylish modern fashion. Their creative genius also helped to revive the art of Hmong craft and industrialize the making of Hmong accessories. The Exhibition will be held during Chinese New Year and it will definitely bring a breath of distinctive taste to Macao.
A total of 14 pieces will be shown in the Exhibition, which is run from 2nd February to 5th May 2013. The public are welcome to visit this fascinating Exhibition.
Macao Fashion Gallery
Exhibition Date:2/2-5/5/2013
Opening hours: 10am – 8pm (closed on Mondays, open on public holidays)
Venue: Rua de S. Roque, No. 47, Macao
Enquiries: (853) 2835 3341 (during office hours)
Website: www.macaofashiongallery.com
Free admission