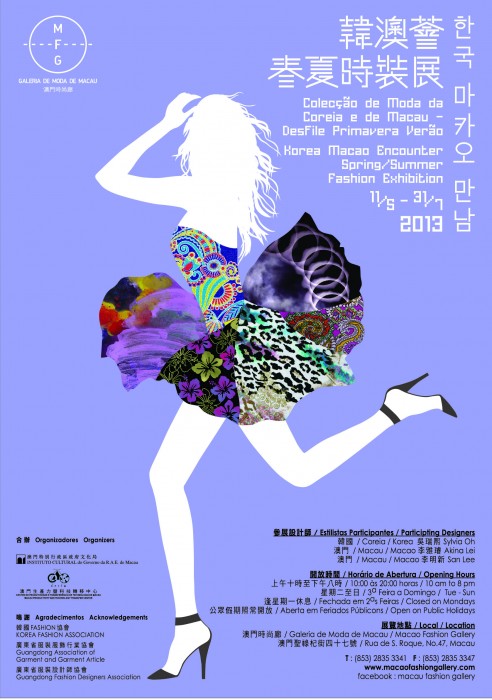 Korea Macao Encounter Spring / Summer Fashion Exhibition
Introduction
A Korean rage has been sweeping through the globe in recent years. Korean fashion has especially taken up a prominent stage, becoming a key trend indicator for the Asia Pacific fashion market. Because of this, "Macao Fashion Galley" has decided to bring this groundbreaking "Korea Macao Encounter Spring/ Summer Fashion Exhibition" to the fashionistas of Macao. The latest 2013 fashion by young and trendy fashion designers from both Korea and Macao will be showcased during this event.
Twenty-four pieces from three designers will be shown during this "Korea Macao Encounter Spring/Summer Fashion Show". Our designers include Sylvia Oh from Korean (fashion label: Monte Milano), Akina Lei from Macao (fashion label: Salut, ça va?), and San Lee from Macao (fashion label: ZICS).
Having similar fashion senses, all designers chose to use chiffon as the central fabric for their collection. Pairing light and fluffy chiffon with this year's latest digital printed fabric and various other textures such as cotton, embossed fabric, and imitation leather, their unique designs and bold color combination will surely jolt the senses of our audiences. Designers were asked to inject fashion elements from both Korea and Macao into their designs, creating a distinctive new look for this show. Their collections are especially designed for this event and it will be shown the first time on any catwalk. The organizer hopes to encourage more innovative designs from local designers by deepening and broadening their collaboration with designers from all over the world.
The"Korea Macao Encounter Spring/Summer Fashion Show" at Macao Fashion Gallery will be shown from 11th May 2013 to 25th August 2013, every day except Mondays but include public holidays. The public are most welcome to join.
Macao Fashion Gallery
Exhibition Date: 11/5-25/8/2013
Opening hours: 10am – 8pm (closed on Mondays, open on public holidays)
Venue: Rua de S. Roque, No. 47, Macao
Enquiries: (853) 2835 3341 (during office hours)
Website: www.macaofashiongallery.com
Free admission