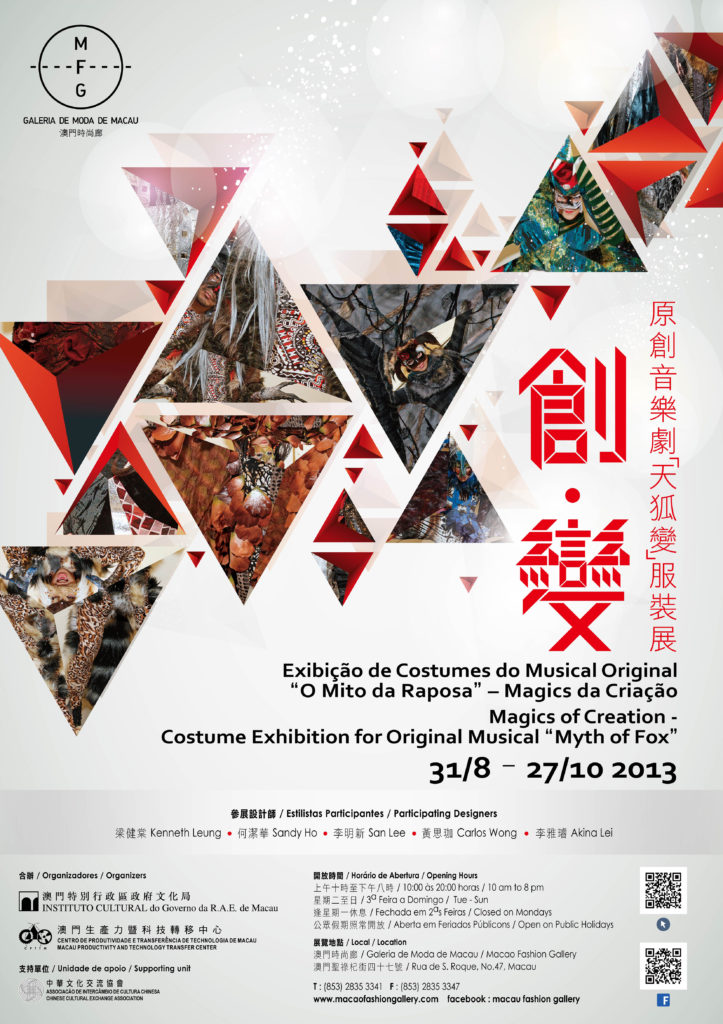 Magic of Creation – Costume Exhibition for Original Musical
Introduction
From creating innovative adaptations to traditional clothing to exchanging inspirational forces with international style gurus, Macao Fashion Gallery has always taken the role of constructing the most fashionable stage for Macao, helping to show the world the joie de vivre of Macao's fashion design industry.
In recent years, development of Macao fashion design has broadened its scope from daily lives to stage performances. Many designers are actively working with local stage costume designers to create a new dimension of development for fashion designers in Macao. In light of this, Macao Fashion Gallery has decided to create our "Magic of Creation – Costume Exhibition for Original Musical <Myth of Fox>" to showcase a successful cross culture cooperation between local fashion designers and stage performance artists.
The original musical <Myth of Fox> is a masterpiece produced jointly by creative talents from Hong Kong, Taiwan, and Macao. On costume design, CPTTM has especially recruited a team of local fashion designers to create a set of elaborate costumes for the show. Senior stage costume designer Kenneth Leung from Hong Kong was invited as the director for this project. The result is a series of bold, ground-breaking, and eye-catching stage costumes which became a critical factor to help the show in winning numerous praises from the audience. A total of 16 stage costumes will be shown in the exhibition, including the special creation crafted by costume director Kenneth Leung and four Macao designers: Sandy Ho, Carlos Wong, San Lee, and Akina Lei. The exhibition brings the costumes into close contact with the audience, allowing them to relive the innovation created for <Myth of Fox> as well as strengthening their awareness on the talent of Macao's own fashion designers.
This exhibition is supported by Chinese Cultural Exchange Association. The exhibition goes from 31st August to 27th October 2013. Macao Fashion Gallery is closed on Mondays and opens during public holidays.
Macao Fashion Gallery
Exhibition Date:2/11/2013-5/1/2014
Opening hours: 10am – 8pm (closed on Mondays, open on public holidays)
Venue: Rua de S. Roque, No. 47, Macao
Enquiries: (853) 2835 3341 (during office hours)
Website: www.macaofashiongallery.com
Free admission