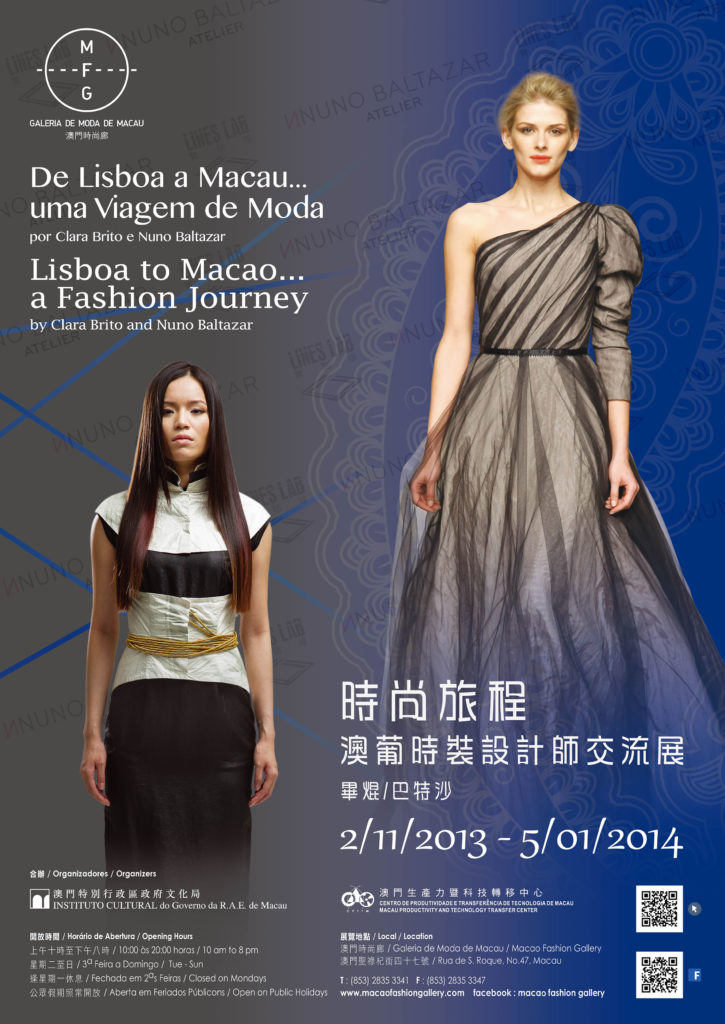 Lisboa to Macao…a Fashion Journey
Introduction
In this cool autumn November, Macao Fashion Gallery brings in a series of Portuguese designs to its exhibition hall. The unique and flamboyant collections from two Portuguese designers are distinctly different from traditional Portuguese style clothing, bringing a refreshing experience to our visitors.
To coordinate with the "Forum on Economic and Trade Co-operation between China and Portuguese-speaking Countries" ministerial conference, which is held by the Macao SAR Government in November, Macao Fashion Gallery especially orchestrated an exhibition aptly titled "Lisbon to Macao … A Fashion Journey". Two Portuguese fashion designers are invited to showcase their collections, giving Macao Fashion Gallery an enchanting southern European feel and a novel stylish experience to our visitors.
A total of 14 pieces are shown at this "Lisbon to Macao … A Fashion Journey" exhibition. They are the creation of two designers, Clara Brito from Macao and Nuno Baltazar from Portugal. Each designer exhibits their unique panache while sharing the bold, imaginative, and eclectic flair of Lusíadas.
Clara Brito uses her unique vision to integrate people and things around her into her design, creating an image from her heart to her mind, using her senses as the source of her creativity. Her straight lines and simple geometric patterns created a style that is uniquely Clara Brito.
Nuno Baltazar lives in Portugal. Immersed in the ambience of continental European and Portuguese fashion industry, Nuno developed sharp fashion senses. Signature characteristics of his designs are clean lines and modern contours. He won numerous awards and was named the best fashion designer of Portugal on many occasions.
The "Lisbon to Macao … A Fashion Journey" exhibition runs from 2nd November 2013 to 5th January 2014. Macao Fashion Gallery is open from 10:00 am to 8:00 pm daily, including public holidays and is closed on Mondays.
Macao Fashion Gallery
Exhibition Date:2/11/2013-5/1/2014
Opening hours: 10am – 8pm (closed on Mondays, open on public holidays)
Venue: Rua de S. Roque, No. 47, Macao
Enquiries: (853) 2835 3341 (during office hours)
Website: www.macaofashiongallery.com
Free admission