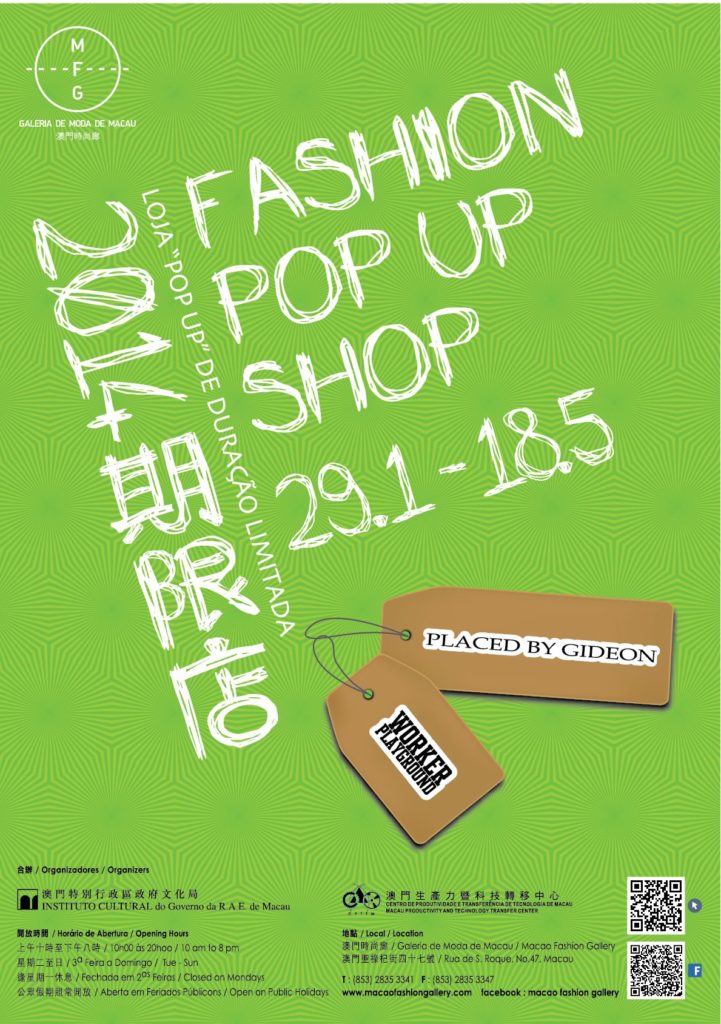 Spring Pop-up Shop 2014
Macao Fashion Gallery, with the aim to promote the fashion industry in Macau, hold on "Pop up shop"of local fashion brands to 2014. Its aim is to open up commercial opportunities for local fashion designers and different distribution channels for their original designs.
The brand Worker Playground was established in 2012, inspired by the Macao Worker Playground. The playground provided the public with an open space for sport, as well as a large-scale event venue. Hence, it was well-loved by the locals and is now part of the collective memory of the people in Macao.
Designer Cheang Chi Tat was born and bred in Macao. His designs are based on American traditional pop couture and are mixed heavily with elements of motorcars and rock n' roll.
The brand Placed by Gideon was established in 2006. Its focal point is men's knitwear which is available for sale in countries such as the United Kingdom, Italy, Germany, Japan, etc.
Gideon Tam was born in Macau, received the fashion design student award presented by RCA (Royal College of Art) in London (United Kingdom) in 2000, and graduated in fashion design from Kingston University London with first honour in 2001. He won the men's wear designer award in the Berlin Fashion Week in 2010 with his original designs and technical skills, well-recognized internationally.
Macao Fashion Gallery
Date:29/1-18/5/2014
Opening hours: 10am – 8pm (closed on Mondays, open on public holidays)
Venue: Rua de S. Roque, No. 47, Macao
Enquiries: (853) 2835 3341 (during office hours)
Website: www.macaofashiongallery.com
Free admission