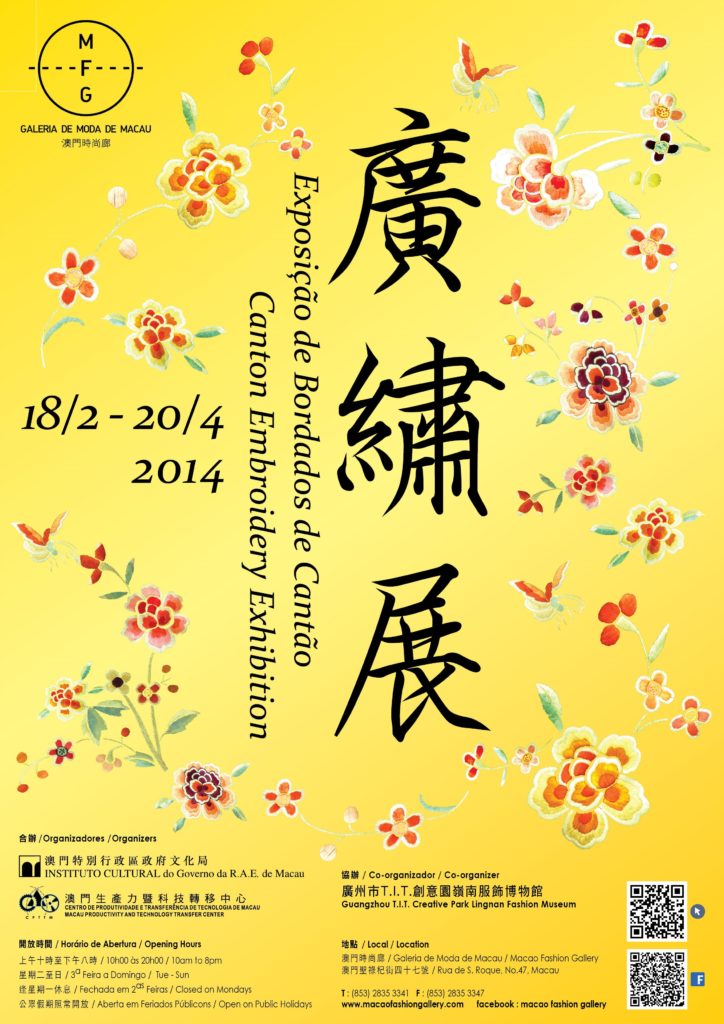 Canton Embroidery Exhibition
Introduction
Cantonese embroidery, including Canton embroidery and Chaozhou embroidery, is one of four most well-known embroideries in China, as well as part of the national intangible cultural heritage. Canton embroidery is typically colourful, decorative and of sharp contrast, made with multiple embroidery techniques. Long-standing and well-established, it is sewn so neatly and the patterns are arranged in such a genius way that the embroidery is of high aesthetic value. At this rejuvenating spring, the Macau Fashion Gallery presents the Canton Embroidery Exhibition, providing the local fashion industry and the art-lovers an opportunity to witness the spectacle of this national art of southern China.
This exhibition showcases traditional clothes and shoes with Canton embroidery, ranging from folk weddings outfits to articles of tribute dated to the reign of the Guangxu Emperor of the Qing Dynasty (around 1875-1908). On silk and/or on gauze, Canton embroidery is the marriage of bold colours, modern patterns and unique sewing techniques. Typically from southern China, it is also a fine example of the advance techniques practiced in traditional clothing- and accessary-making; all objects exhibited are of highaesthetic value. The fashion industry, as well as the general public in Macao, can take advantage of this precious chance to closely appreciate this traditional yet unique art of Chinese embroidery.
With thanks to Guangzhou T.I.T. Creative Park Lingnan Fashion Museum, and with special thanks to Mr. Qu Tingnan who has loaned his private collection, the Macau fashion gallery is able to proudly present the Canton Embroidery Exhibition in Macao.
Macao Fashion Gallery
Exhibition Date:18/2-20/4/2014
Opening hours: 10am – 8pm (closed on Mondays, open on public holidays)
Venue: Rua de S. Roque, No. 47, Macao
Enquiries: (853) 2835 3341 (during office hours)
Website: www.macaofashiongallery.com
Free admission