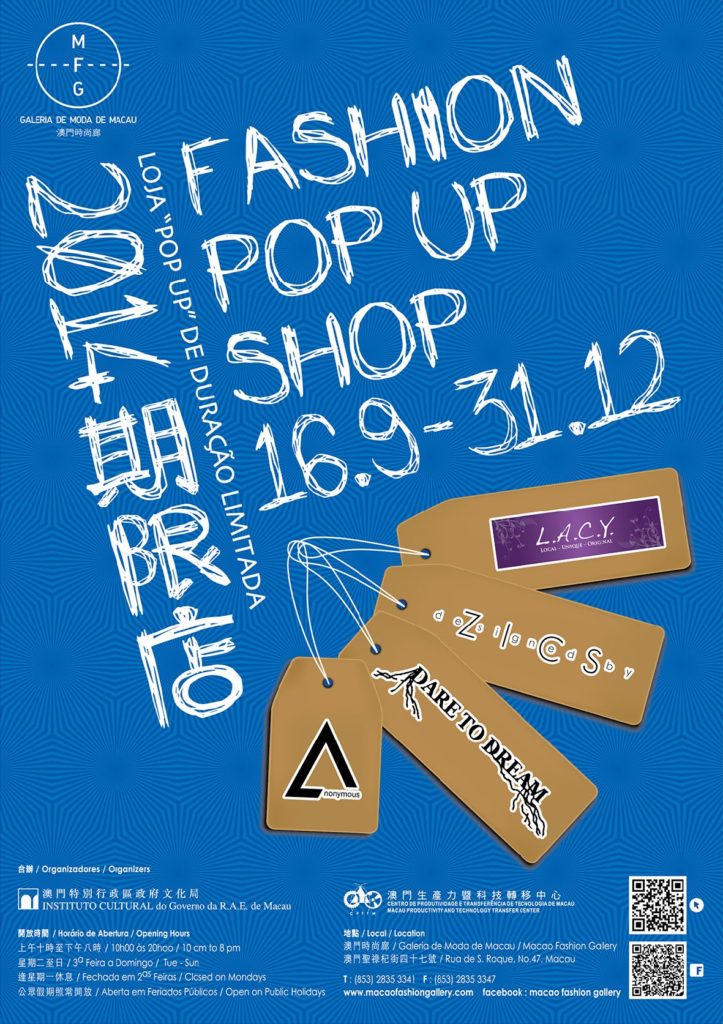 Winter Pop up Shop 2014
To further develop the fashion design industry in Macao and, Macao Fashion Gallery sets up a pop up store for a limited period to sell local designs over the summer in 2014. Its aim is to open up commercial opportunities for local fashion designers and different distribution channels for their original designs. This time around, the pop up store is adopting the theme of autumn and winter with four local brands participating.
The brand "Anonymous", its design being simple and neat, is determined in maintaining and balancing great quality in every details on their designs. The brand sells a low-profile, energetic, strong yet sweet femininity; this unique beautifulness is like a little wandering around the city.
The brand 'DARE TO DREAM', fittingly, is renowned for its creative and characteristic casual fashion, using handpicked fabrics and stitches as well as practicing unique dyeing and washing techniques in garment manufacturing. The women's lines under this brand are characterized with romantic, cute, trendy, cool and adventurous themes.
L.A.C.Y. Boutique's has 20 years of experiences in fashion design and manufacture; L.A.C.Y. Boutique's business area includes bridal wear, ball gown, uniform and more. Throughout the years L.A.C.Y. Boutique have been working with local fashion designers and artists, lately L.A.C.Y. Boutique have started producing their own bridal and ball gown labels, together they are working hand in hand to promote the local creative scene. L.A.C.Y. Boutique also provide all kinds of design, tailoring and manufacture services; from jean amendment, to tailor made items and mass-produced products.
The brand 'ZICS' was established in 2009. The designer, in a black-and-white world, discovered and experimented with fashion themes to create unisex clothing collections and to explore the possibilities of asymmetry and layers. The collections was exhibited in Macau Fashion Festival, Hong Kong Fashion Festival, and so on. 'ZICS' also attempts to create in other fashion areas including theatrical costumes and accessories.
Macao Fashion Gallery
Date:16/9-31/12/2014
Opening hours: 10am – 8pm (closed on Mondays, open on public holidays)
Venue: Rua de S. Roque, No. 47, Macao
Enquiries: (853) 2835 3341 (during office hours)
Website: www.macaofashiongallery.com
Free admission