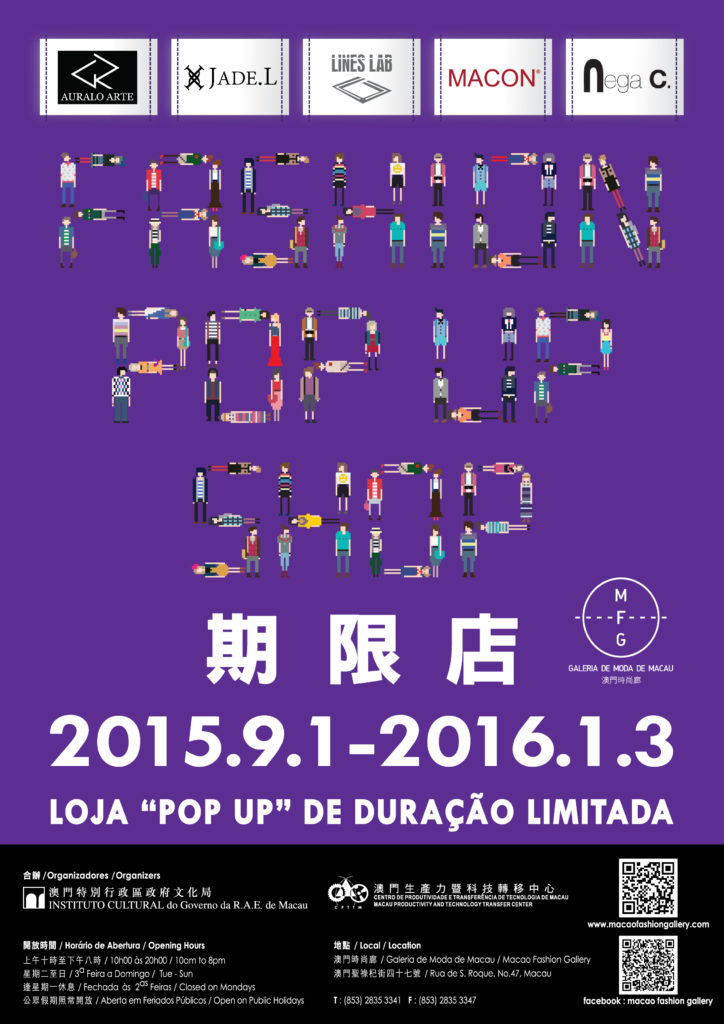 Winter Pop-up Shop 2015
The brand activity "Pop-up Store" of Macao Fashion Gallery (MFG) aims to create more trading opportunities for local fashion designers and promote local original fashion to expand sales channels for products. The five local brands joining the "Winter Pop-up Store" are as follows:
"AUROLO ARTE", features a perfect combination of art and splendor, designing trendy and unique clothes. Haute couture production methods have been employed in every detail. The colors of the couture show a beautiful evolution and illusion from black to multicolor, just like the aurora dancing beautifully in the dark night.
"JADE. L", is closely related to life attitude. It pursues unique personality and interprets unisex in a low-profile way. "JADE. L" brings personality into daily routines, creating a local unisex fashion brand in Macao. By focusing on the texture of the couture and paying attention to details, it integrates characteristics into every design and thus adding a unique glamour to the low profile life.
"LINES LAB", a creative agency on the global Lusophone Top 20 ranking by Monocle Magazine & A Must See according to the New York Times. Based in Macau, China and Lisbon, Portugal, LINES LAB is committed in full to the equation of objects, people and events. Headed by two Portuguese designers, the designs of LINES LAB are the unique synthesis of creation and risk.
"MACON", founded in 2013. It is the first Macanese original brand to launch on the T-Mall, an online integrated shopping platform. The design style of MACON centers on "slow life, light trip", with its products having comfort and simplicity as their main tone to create the senses of unisex and literal arts youth.
"NEGA.C",is fashionable and cool, as its designer has the wildest dreams of the world. NEGA.C has sought great inspirations from street cultures, i.e. music, architectures, art and fashion; its creation is styled like a cute and mischievous girl. By presenting design elements and popular information in different forms, it is hoping to blend creativity into every day's life and to experience creativity with sensibility.
Macao Fashion Gallery
Date:1/9/2015-3/1/2016
Opening hours: 10am – 8pm (closed on Mondays, open on public holidays)
Venue: Rua de S. Roque, No. 47, Macao
Enquiries: (853) 2835 3341 (during office hours)
Website: www.macaofashiongallery.com
Free admission