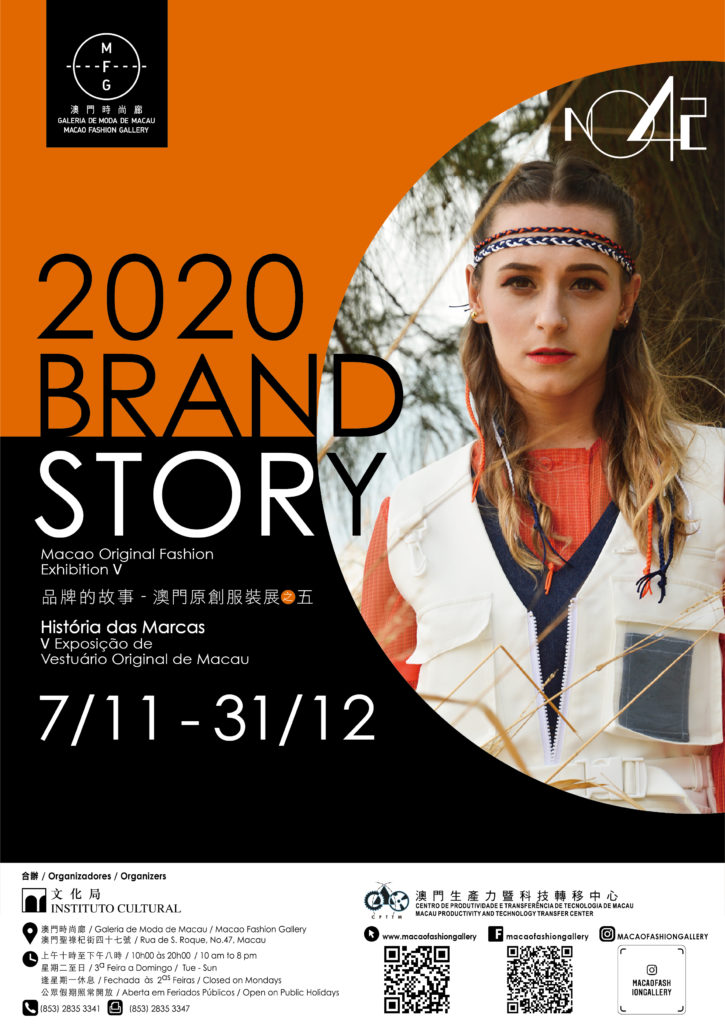 The 2020 Brand Story—Macao Original Fashion Exhibition V
Introduction
In 2020, the Year of the Rat, everything begins anew and the 12-year cycle of the Chinese zodiac repeats itself endlessly like the fashion industry. Brimming with inspirations and with unique taste and creativity, trend-setting fashion designers constantly cultivate appreciation and new ideas about fashion to the public.
While people pursue exquisite works, how much do they know about the story behind? Stories are yet to be explored behind the fashion pieces. How do designers illustrate the story with their work? With the cloth as the story's outline and ornaments as the context, they connect all the specifics with needles and threads.
The Macao SAR government is committed to advancing the development of cultural and creative industries with many local original fashion brands fully prepared. Therefore, Macao Fashion Gallery (MFG) continues its fashion event this year, 2020 Brand Story – Macao Original Fashion Exhibition. MFG provides an exhibition venue for local original brands to showcase local designers' talent to visitors through open call for brands, followed by objective evaluation and selection.
The exhibition will be divided into five phases, with one brand being displayed at each phase. Five selected brands, including Lexx Moda, Nega C., ZICS, FAITH & FEARLESS and NO.42, will be exhibited one after another. The first is Lexx Moda, a women's shoe brand combining comfort and fashion, and it will be followed by the youthful and sweet Nega C., ZICS with black-white-gray architectural aesthetics, and the brand FAITH & FEARLESS which represents the street style. This event will be concluded by the mixed-style brand NO.42. The public can feel the unlimited possibilities of fashion after seeing five completely different brands. What's more, all collections will be available for purchase. You will not go home empty-handed.
Brand introduction: NO.42
No.42 is a local fashion design brand that values "freedom from restraints and life with an attitude". Its designers believe everyone has "multiple personalities" and that clothes are media in which one's ideas and feelings can be expressed. A style, whether it is cool, disobedient, elegant, intellectual or mixed, as long as it captures one's mood, can all be expressed through different outfits.
The design of the brand is one that features asymmetrical tailoring and the use of fabrics of different textures to create interwoven patterns, as well as beautiful details to make styles of all kinds. Different clothing items can match to make a variety of styles that reflect the attitude of liberty. That is how fashion is brought beyond the stage into the daily life of the wearer. In addition to occasional launches of different collections, No.42 also provides customisation and styling services for customers of all kinds.
Designers: Ophelia Vong and Venus Tou
Ophelia Vong and Venus Tou majored in Fashion Design and Merchandising at Shih Chien University, Kaohsiung Campus. As college students, they worked for fashion shows as activity assistants in Macao and Taiwan and coordinated the design and layout of venues for static exhibitions of graduation works. After their return to Macao, as an extension of their interest in and passion for fashion design, they jointly opened a studio and founded the fashion brand No.42 in 2019.
Exhibition theme — "Where's my soul?"
Our life is full of decision points. Before us are many invisible roads. Each decision we make leads us toward a certain direction……In the process of searching and pursuit, we may repeatedly ask ourselves: What do we really want? Where can we find it? Who are we actually? What the "soul" represents may be dreams, ideas, desires, an attractive life or the very self in the depth of our hearts. Everyone is defined differently but what we have in common is that we are all alive in this journey of exploration.
The background design of this concept exhibition uses lines to draw different roads, symbolizing a journey of exploration of the soul.
Macao Fashion Gallery
Exhibition Date:5/9-1/11/2020
Opening hours: 10am – 8pm (closed on Mondays, open on public holidays)
Venue: Rua de S. Roque, No. 47, Macao
Enquiries: (853) 2835 3341 (during office hours)
Website: www.macaofashiongallery.com
Free admission