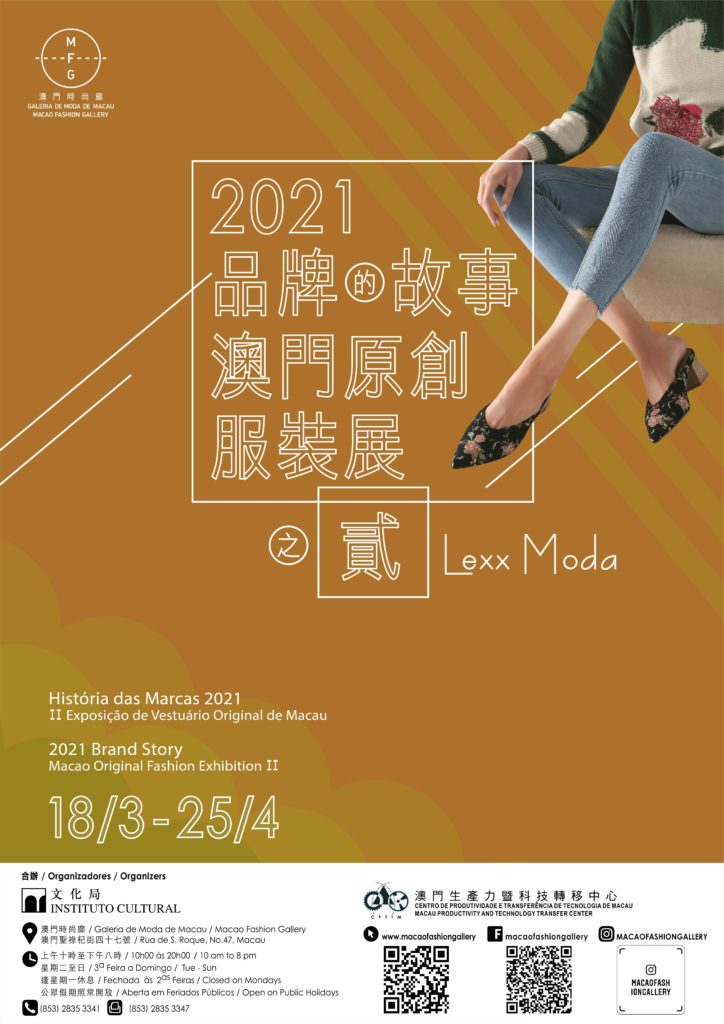 2021Brand Story—Macao Original Fashion Exhibition II
Introduction
Fashion is a tribute to aesthetics and is also an artistic expression. Items of clothing are most likely to gain momentum in fashion trends. Fashion designers are pioneers shaping styles, who look for inspirations in the natural world and ingeniously combine inspirations and personal styles to give new meaning to fashion and offer avant-garde interpretations. The works are born from countless remodeling, full of silent bitterness. And the stories behind them attract fashion enthusiasts imperceptibly.
In recent years, cultural and creative industries have gradually drawn the attention of society. Committed to driving forward the development of the clothing industry, the Macao Fashion Gallery (MFG) will continue to hold the "Brand Story—Macao Original Fashion Exhibition" in 2021. After an open call and selection, a few promising local original brands are expected to achieve development through the MFG platform, contributing to the boom of the local clothing industry.
The exhibition will be staged in eight phases, with one brand being displayed at each phase. The eight brands selected by a professional judging panel are Nega C., Lexx Moda, ANIFA, Common Comma, PUI, Demi*D, NO.42, and C/W COLLECTIVE, which will be exhibited one after another. The youthful and sweet brand Nega C. will be the first to be displayed, followed by Lexx Moda, a women's shoe brand combining comfort and fashion, ANIFA, a sports suit brand delivering a sense of technology, Common Comma with a blend of elegance and casualness, PUI featuring unique designs, Demi*D known for its concise and decent style, and the mixed-style brand NO.42. This event will be concluded by avant-garde and high-end C/W COLLECTIVE.
The eight brands are all distinctive in style, and each has its own design merits. They will showcase their latest series of works to the outside world and share with the public their representative creations through the MFG platform, bursting with brand vitality. Moreover, there will also be a sales space to exhibit these brands' clothing collections at the venue.
Brand introduction:Lexx Moda
Lexx Moda is a casual women's footwear brand founded by designer Sanjo Iong in 2001, which launched its brick-and-mortar/online sales in 2018.
Its products are mainly casual in style, designed with different lines and colours, with a striking touch of Chinese and Western cultural creation, which are well received by fashion consumers. Elegant and natural in style, its brand creation blends stylishness and comfort, producing collectible fashion shoes with a strong sense of lines. By creating a delicate and tasteful lifestyle, it has become an international fashion brand representing today's independent women.
Behind each pair of shoes, there are design stories about life details and aesthetic sensibility, infused with elegance, uniqueness, and motivation to cross the boundaries of creation. The brand designs shoes like no other for fashionable women.
Brand designer:SANJO IONG
The founder and designer of Lexx Moda, an original brand of women's footwear in Macao, is a member of the British Footwear Association, with 20 years of design experience. The designer founded Lexx Moda in the small town of Northampton in 2001 to design something of simplicity and modern style, and she launched the brick-and-mortar/online sales of Lexx Moda in 2018, committed to a fashion brand for women's shoes.
Its brand design has been reported by TDM – Teledifusão de Macau, S. A. (TDM), Macau Asia Satellite Television Company, Limited (MASTV), and Macao Daily News many times and has been invited to participate in the programme recording of TDM. In addition, the designer has also designed shoes for renowned overseas brands, including "Steve Madden", "San Marnia", "Rose Bud", "Tomorrow Land", "I.T", "Groidano Ladies" and so on.
Exhibition theme — Loftiness
This art installation is created with elements such as Lexx Moda shoes, mirrors, stainless steel mirrored balls, mirrors with ripple patterns, etc. Through anti-gravity vision and mirror design, the elements are strewn across the spaces created to make "gravity" more figurative, showcasing women's attitude of breaking free from fetters and exploring the actual self.
The art installation is designed to be a cascading parabola, symbolising a burst of creativity. The mirrors on the wall extend the range of visibility and invite a deep exploration, reflecting the designer's perception and expression of women's inner world. Through the mirrors, we can see we are like no other.
Shoes bear the exclusive memories of consumers and designers, while customisation dispels the previous worry of sacrificing comfort for beauty, allowing women to express themselves and show their enthusiasm for life and their pursuit of high quality.
Macao Fashion Gallery
Exhibition Date:18/3-25/4/2021
Opening hours: 10am – 8pm (closed on Mondays, open on public holidays)
Venue: Rua de S. Roque, No. 47, Macao
Enquiries: (853) 2835 3341 (during office hours)
Website: www.macaofashiongallery.com
Free admission