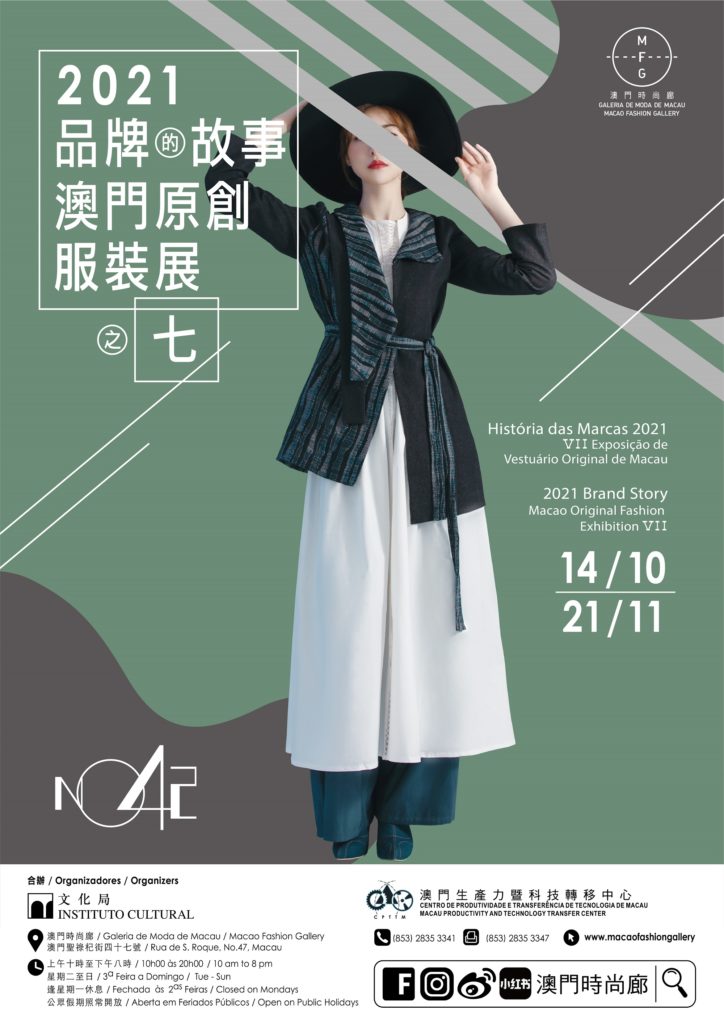 2021Brand Story—Macao Original Fashion Exhibition VI
Introduction
Fashion is a tribute to aesthetics and is also an artistic expression. Items of clothing are most likely to gain momentum in fashion trends. Fashion designers are pioneers shaping styles, who look for inspirations in the natural world and ingeniously combine inspirations and personal styles to give new meaning to fashion and offer avant-garde interpretations. The works are born from countless remodeling, full of silent bitterness. And the stories behind them attract fashion enthusiasts imperceptibly.
In recent years, cultural and creative industries have gradually drawn the attention of society. Committed to driving forward the development of the clothing industry, the Macao Fashion Gallery (MFG) will continue to hold the "Brand Story—Macao Original Fashion Exhibition" in 2021. After an open call and selection, a few promising local original brands are expected to achieve development through the MFG platform, contributing to the boom of the local clothing industry.
The exhibition will be staged in eight phases, with one brand being displayed at each phase. The eight brands selected by a professional judging panel are Nega C., Lexx Moda, ANIFA, Common Comma, PUI, Demi*D, NO.42, and C/W COLLECTIVE, which will be exhibited one after another. The youthful and sweet brand Nega C. will be the first to be displayed, followed by Lexx Moda, a women's shoe brand combining comfort and fashion, ANIFA, a sports suit brand delivering a sense of technology, Common Comma with a blend of elegance and casualness, PUI featuring unique designs, Demi*D known for its concise and decent style, and the mixed-style brand NO.42. This event will be concluded by avant-garde and high-end C/W COLLECTIVE.
The eight brands are all distinctive in style, and each has its own design merits. They will showcase their latest series of works to the outside world and share with the public their representative creations through the MFG platform, bursting with brand vitality. Moreover, there will also be a sales space to exhibit these brands' clothing collections at the venue.
Brand introduction:No.42
No.42 is a local fashion design brand that values "freedom from restraints and life with an attitude". Its designers believe everyone has "multiple personalities" and that clothes are media in which one's ideas and feelings can be expressed. A style, whether it is cool, disobedient, elegant, intellectual or mixed, as long as it captures one's mood, can all be expressed through different outfits.
The design of the brand is one that features asymmetrical tailoring and the use of fabrics of different textures to create interwoven patterns, as well as beautiful details to make styles of all kinds. Different clothing items can match to make a variety of styles that reflect the attitude of liberty. That is how fashion is brought beyond the stage into the daily life of the wearer.
In addition to occasional launches of different collections, No.42 also provides customisation and styling services for customers of all kinds.
Brand designer:Ophelia Vong and Venus Tou
NO.42 was founded by Ophelia Vong and Venus Tou, two designers whose personalities and design styles are completely different. Two vastly different styles, with the former elegant and delicate and the latter rebellious and sexy, collide and combine to create a unique fashion style, forming a brand with a unique charm.
The two designers happened to attend the same university, Shih Chien University, and participated in a number of fashion shows and design exhibitions. They set up a studio together in 2019 after returning to Macao, as an extension of their interest in and passion for fashion design.
Exhibition theme — MIX & MATCH
"Freedom from restraints"
There is no fixed formula for the mix and match of outfits – add some well-designed fashion items to your daily outfit and show your unique personality without restraint.
"Life with an attitude"
NO.42's clothing can match various items. NO.42's articles of clothing from different collections can not only match each other but also go with the basic fashion items in the wearer's wardrobe.
This exhibition presents a combination of all NO.42 collections. Apart from displaying the collections already on sale, part of the works from the latest collection will also be included. In line with the brand's core philosophy, clothing from all the collections are once again brought to the public through mixing and matching with the theme "MIX & MATCH", in order to promote the variability and sustainability of the brand's fashion style.
Macao Fashion Gallery
Exhibition Date:14/10-21/11/2021
Opening hours: 10am – 8pm (closed on Mondays, open on public holidays)
Venue: Rua de S. Roque, No. 47, Macao
Enquiries: (853) 2835 3341 (during office hours)
Website: www.macaofashiongallery.com