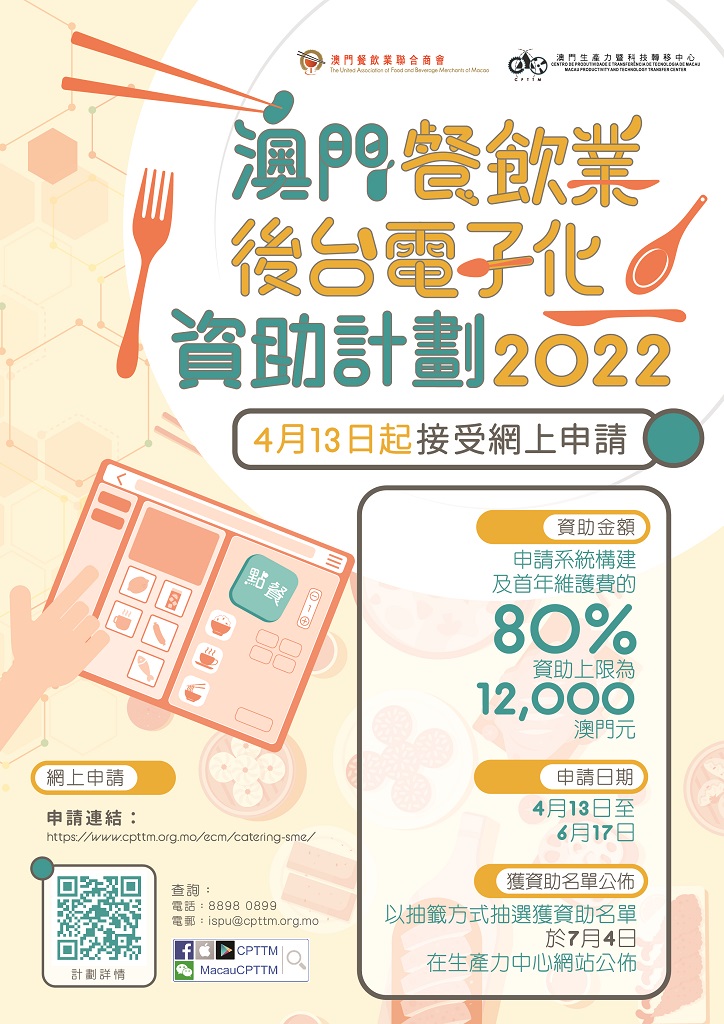 It aims to assist the catering enterprises in Macao to carry out technological and management reforms, so that there can be more possibilities for the operation of the enterprises and lay a good technical foundation for future sustainable development. Organized by The United Association of Food and Beverage Merchants of Macao and commissioned by the Macau Productivity and Technology Transfer Center (CPTTM), the 2022 Back Office Electronic Funding Scheme for the Food and Beverage Industry of Macao (the Scheme).
Application date Beginning April 13, 2022 and ending June 17, 2022.
Eligible catering enterprises can apply to the executive unit for the system construction cost in accordance with their actual needs, and the amount of funding is 80% of the cost, with a ceiling of MOP12,000.00.
For any queries, please contact Information System and Technology Department, CPTTM. Tel: 8898 0899, or visit us at Rua de Xangai 175, Ed. ACM., 6 andar Macau.
Regulations:https://www.cpttm.org.mo/ecm/catering-sme/
Online Application Form:https://catering-sme.cpttm.org.mo/
---
Recognized suppliers